First all-private astronaut team aboard space station heads for splashdown
Context
The first all-private astronaut crew to fly aboard the International Space Station (ISS) headed for splashdown recently off the coast of Florida, wrapping up a two-week mission that NASA has touted as a landmark in commercial spaceflight.
About
FIERY RE-ENTRY
A SpaceX Crew Dragon capsule carrying the four-man team of Houston-based startup Axiom Space Inc began its return flight about 9 p.m.
The splashdown, carried live by a joint Axiom-SpaceX webcast, was originally planned for last Wednesday, but the return flight was delayed due to unfavorable weather.
The return from orbit followed a re-entry plunge through Earth's atmosphere generating frictional heat that sends temperatures surrounding the outside of the capsule soaring to 1,927 degrees Celsius.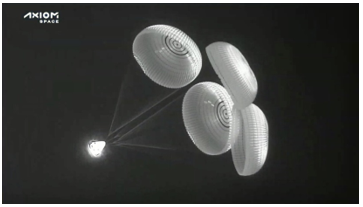 'LOW-EARTH ORBIT ECONOMY'
Axiom, SpaceX and NASA

have touted the occasion as a milestone in the expansion of privately funded space-based commerce, constituting what industry insiders call the "low-Earth orbit economy," or "LEO economy" for short.
Launched on April 8, the Axiom team spent 15 days aboard the space station with the seven regular, government-paid ISS crew members: three American astronauts, a German astronaut and three Russian cosmonauts.
The ISS has hosted several wealthy space tourists from time to time over the years.
But the Axiom quartet was the first all-commercial team ever welcomed to the space station as working astronauts, bringing with them 25 science and biomedical experiments to conduct in orbit.

The package included research on brain health, cardiac stem cells, cancer and aging, as well as a technology demonstration to produce optics using the surface tension of fluids in microgravity.

It was the sixth human spaceflight for SpaceX in nearly two years, following four NASA astronaut missions to the ISS and the "Inspiration 4" flight in September that sent an all-private crew into Earth orbit for the first time, though not to the space station.

SpaceX has been hired to fly three more Axiom astronaut missions to ISS over the next two years.

Verifying, please be patient.