An Appraisal of the Red Corridor
Special Secretary at the Chief Minister's Office Ramakant Singh has instructed to pay scholarship in a week under the skill development scheme in the Left Wing Extremism affected districts to the ITI-trained students.
Issue
Context
Special Secretary at the Chief Minister's Office Ramakant Singh has instructed to pay scholarship in a week under the skill development scheme in the Left Wing Extremism affected districts to the ITI-trained students.
Background
Left Wing Extremism (LWE) is recognised as one of the most serious threats, not only to India's internal security but indeed to the very basic values of the democratic, pluralistic political order enshrined in our Constitution

Since 1967, when the movement started in a few 'Parganas' in West Bengal, it has gradually spread its tentacles into nearly 90 districts in nine states.

Over the past 51 years, the armed activists of the movement have accounted for widespread death and destruction.

Later, over the decades that followed, the movement assumed alarming proportions,

Threatening peace and security over a vast stretch of land spread across 10 states, described as 'Red Corridor'.
Analysis
The Naxalite movement prominently focuses on major issues like:
Reallocation of land resources;

Ensuring minimum wages for the labour working in the farms;

Running a parallel government and impose tax and penalties;

Run parallel Kangaroo Courts;

Destruction of government property and abduct its officials;

Attacks on police and law enforcing machinery;

Enforce its own social code of conduct
Current Status
Over the years, at the peak of the LWE movement, nearly 40 per cent of India's land mass, covering approximately 35 per cent of its population, was affected.

According to a recent security review by the Ministry of Home Affairs, (MHA), violence in LWE affected region is now spans 90 districts across 10 states.

In 2017, a total of 263 fatal casualties were recorded and 1888 CPI-Maoists cadres were arrested, which is the highest till now.

The state-wide classification of the most affected districts is as below.



Mobilisation of LWE Supporters in Urban Areas
Concurrently, even when the LWE movement is under intense pressure, because of a combination of proactive security and effective development measures, a steady rise in pro-Naxal activities in urban India is being observed.

The recent trend of strong coordination between parent organisations like the CPI-Maoists and other like-minded organisations is being reflected in the various programmes carried out by these organisations, against the alleged state violence and for protection of democratic rights like displacement of local communities.

It remained the main rationale for mobilisation for civil society organisations like the Niyamgiri Suraksha Samitee, actively agitating in the Niyamgiri Hills area and the Jharkhand Visthapan Virodhi Jan Vikas Andolan, a front of CPI-M agitating against amendments to the Chhotanagpur and Santhal Pargana Tenancy Acts.

In this backdrop, a systematic approach was initiated by the CPI-M to mobilise resources and achieve the following objectives through urban mobilisation, taking advantage of their anonymity in the urban centres.

Mobilise masses and strengthen organisational structures

– Under this programme, the Maoists mainly targeted students, workers, middle-class employees, and focused on social issues like women's rights, the grievances of Dalits, and religious minorities and politicised issues in accordance with the communist ideology.

Develop a United Front

– Another component of the above strategy was to unify like-minded organisations of workers, students from urban localities, organisations opposing globalisation, etc and to consolidate them.

Military Task

– The military wings of CPI-M, PGI and PLGA, were to carry out the military tasks in the rural and least developed regions of the country while the urban Naxals were to complement their efforts by recruiting cadres and sending them into the countryside, infiltrating 'enemy' ranks, creating unions in crucial industries, sabotaging actions with the support of armed cadres, arranging financial and logistical support for armed cadres hiding in the remote localities.
Government of India's Approach
Review Mechanism:

For effective implementation of the NPAP, the MHA established a robust mechanism under which timely reviews are conducted and policies and strategies are amended or fine-tuned.

SAMADHAN-A Comprehensive Policy Tool:

an integrated strategy through which LWE can be countered with full force and competence. This is a compilation of short term and long-term policies formulated at different levels.

Tracking Flow of Weapons:

Real-time technical intelligence plays a decisive role in any proactive counter-insurgency force and its timely receipt defines the strength of that force. In developing these capabilities, the MHA has deployed at least one Unmanned Aerial Vehicle (UAV) or Mini-UAV for each CAPF battalions. More helicopter support is provided for CAPFs to rush in supplies and reinforcements.

Tracking Finances:

Apart from robust kinetic measures, a pre-emptive approach warrants limiting the resources of LWE movement and its cadres through effective coordination and thorough investigation.

Multi-agency Approach:

the Ministry of Home Affairs has set up a Multi-Disciplinary Group (MDG) comprising officers from the Intelligence Bureau (IB), Central Bureau of Investigation (CBI), Enforcement Directorate, Directorate of Revenue Intelligence (DRI), NIA, Central Board of Direct Taxation (CBDT), CRPF and the state police as well as their Special Branches, Criminal Investigation Departments (CIDs) and other state units. This group is utilised by the MHA as a forum for evolving a well-coordinated approach for handling prolonged national security challenges.

Bastariya Battalion:

the CRPF has decided to enhance local representation in its combat layout deployed in the Bastar area to provide the 'Bastariya' youth better avenues of employment under its Civic Action Programme.
Development Initiatives by Government of India
Road Connectivity Schemes:

The Road Requirement Plan is being implemented by the Ministry of Road Transport and Highways with the objective of better connectivity in 34 LWE affected districts of nine states.

Data Connectivity:

The Department of Telecom is proactively implementing schemes for better data connectivity of LWE affected states with the rest of the country. These efforts are yielding constructive results, helping the security forces with better data connectivity for executing counter-insurgency operations successfully.

Electrification Initiatives in LWE Districts:

The Ministry of Power has proactively started the electrification of the villages in the LWE affected districts under Deen Dayal Upadhyaya Gram Jyoti Yojana (DDUGJY).

Employment Initiatives:

Along with several infrastructural schemes, the Government of India is also executing several schemes under the Pradhan Mantri Kaushal Vikas Yojna (PMKVY) that are empowering the citizens with the required skill sets to earn their livelihood. Under this programme 47 Industrial Training Institutes (ITIs) and 68 Skill Development Centres (SDCs) are to be established.
Cycles of development and Extremism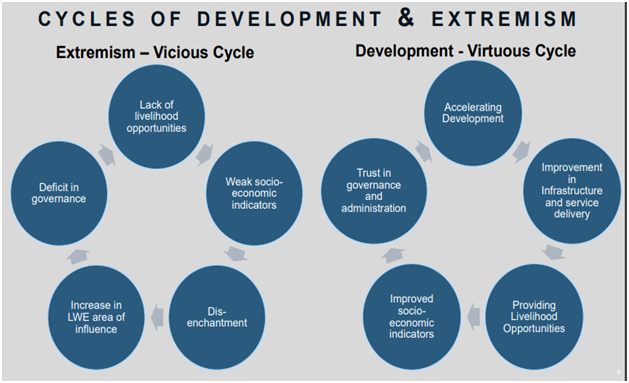 Way Forward
Ensuring effective governance for the well-being of the affected sections of the population.

Transforming the state police into an effective counterinsurgency force.

Timely execution and completion of development schemes.

Further, the states can also improve governance by playing a constructive role in: Suggesting specific, actionable interventions in existing schemes which are being run by the Central Government in the state.

Encouraging civil society and youth to act in a constructive way rather than resorting to mere right based agitations.

Unleashing the competitive spirit among all stakeholders.

Timely sharing of information on district-specific issues.
Learning Aid