Analysis of India's Chemical Industry
India's chemical industry, the sixth-largest in the world, continues to expand dangerously.
Context
India's chemical industry, the sixth-largest in the world, continues to expand dangerously.
India's Chemical Industry:
India's Chemicals industry is highly diversified, covering more than 80,000 commercial products.

It is broadly classified into Bulk chemicals, Specialty chemicals, Agrochemicals, Petrochemicals, Polymers and Fertilizers.

India is a strong global dye supplier, accounting for approximately 16% of the world production of dyestuff and dye intermediates.

In 2017-18, the sector produced 49 million tonnes of chemicals and petrochemicals. Alkaline accounts for 69 per cent of India's chemical production and polymer accounts for 59 per cent of petrochemical production.

The domestic chemicals industry will reach $304 billion by 2025 from the current $163 billion.

Furthermore, India will develop manufacturing hubs at Dehej in Gujarat, Vishakhapatnam in Andhra Pradesh, Paradip in Odisha and Cuddalore in Tamil Nadu.

100% FDI is allowed under the automatic route in the chemicals sector (except in the case of certain hazardous chemicals).
Analysis
Importance of India's Chemical Industry:
Economic growth:

The chemical industry's role as the key enabler of economic growth is well-established worldwide. From the ubiquitous cellphone to solar panels producing carbon-free energy, to LED lights providing efficient lighting-all are made possible by chemical industry products.

Improving the standard of life:

In India, the chemical industry occupies a pivotal position in meeting basic needs and improving the quality of life as well.

A contributor to GDP:

The sector overall contributes to about three percent of India's gross domestic product (GDP).

Serving all sectors:

The chemical industry is critical for the economic development of any country, providing key products and enabling technical solutions in virtually all sectors of the economy.
Challenges & Issues:
Lack of proper knowledge:

India does not have an exhaustive inventory on the chemicals being used and their associated risks. The country does not have proper knowledge of the chemicals being used. So, several chemicals banned internationally continue to be used in India.

Major accidents:

India, on an average recorded over four major chemical accidents every month in the past three years (Bhopal Gas Tragedy). The 152 recorded accidents are underestimated as most cases go unregistered.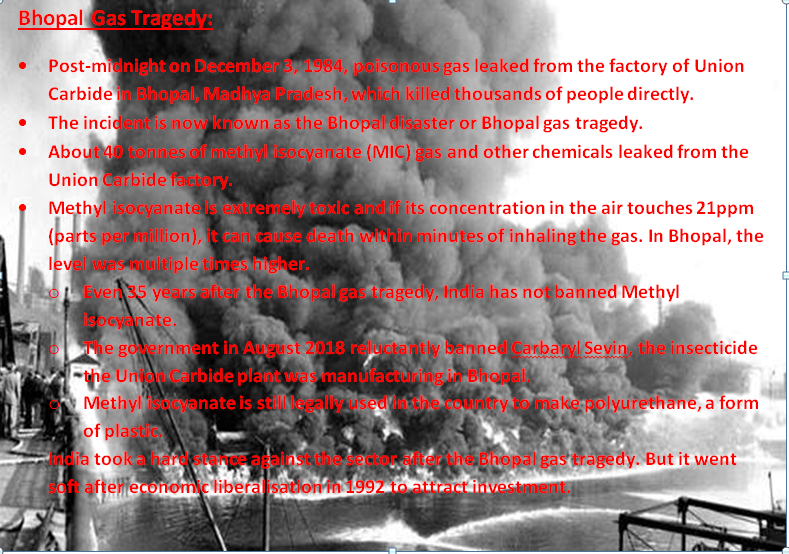 A source of hazardous waste:

Besides accidents, the chemical industry is also a major source of hazardous waste, which, if not handled properly, can lead to widespread contamination. There are around 56,350 industrial units that produce 7.7 million tonnes of hazardous waste every year, as per the Hazardous Waste Inventory Report 2016-17.

Lack of data:

Lack of data is the other big problem. "Many organisations are involved in collecting data — the database on pesticides, industrial chemicals and chemical wastes is encouraging. However, with respect to consumer chemicals, attention is needed.

Lack of coordination:

There is no coordination between the customs department and environment ministry to prevent illegal activities. Due to this, importers constantly violate the Customs Act, 1962. Cargos are given clearances without being emptied every day. Importers use their own software and provide wrong information to the department.

Poor legal regulation:

India has over 15 Acts and 19 rules that govern different aspects of the chemical industry. Yet none of the acts have been designed exclusively for the industry.

The Central Motor Vehicles Rules, 1989,

deals with all aspects of road transportation in general and also specifically addresses transportation of hazardous goods, including chemicals.

The Environment (Protection) Act, 1986

, currently serves as the umbrella act when it comes to the chemical industry, suggests the National Chemical Management Profile for India report, released in 2005-06 by the Ministry of Environment, Forest and Climate Change (MoEFCC) and the Central Pollution Control Board (CPCB).

The national chemical policy has been pending since 2012.

Confusing monitoring:

There is no rationale behind having so many Union ministries looking after one sector. It leads to over interference and little work.
Chemicals to look for:
Organophosphate pesticides:

They are a class of neurotoxic chemicals used aswarfare agents in the 1930s. However, today, they are widely used. They can make their way onto crops that we use as food sources. Areas that spray pesticides heavily, such as farms, may find higher rates of exposure.

Polybrominated diphenyl ethers:

They are used as flame retardants, chemicals that can slow the speed of a flame. They can be found in televisions, computers, insulation and foam products, including children's toys and baby pillows.

Phthalates:

These chemicals soften plastics and help scents and chemicals bind together. Exposure to phthalates has been associated withlower IQ levels. They can be found in shampoos, conditioners, body sprays, hair sprays, perfumes, colognes, soap, nail polish, shower curtains, medical tubing, IV bags, vinyl flooring and wall coverings, food packaging and coatings on time-release pharmaceuticals.

Polychlorinated biphenyls:

Polychlorinated biphenyls are associated with cancer in occupational settings and has been associated with issues with motor skills and short term memory in children.

Nonylphenol (NP):

NP is a persistent, toxic, bio-accumulative chemical which acts as a hormone disruptor and can be responsible for a number of human health effects. It is found in detergents.

Lead:

Lead is a naturally occurring metal. It is used in a variety of products like industrial paints, car batteries and wheel weights. It can also make its way into water, because of corrosion from old water pipes. Lead exposure has been associated with ADHD, lower IQs and developmental delay.
Suggestive measures:
Currently, the weakest factors are inspection, vigilance and public awareness. To correct this, we need standardised procedures and personnel for inspection and vigilance.

The European Union has effective regulations like the Registration, Evaluation, Authorisation and Restriction of Chemicals and India needs similar regulation.

In order to grow in a sustainable way, the industry need to address matters and activities related to water, environmental impact, raw materials, and energy use in the Indian chemical industry.

The Indian chemical industry needs to upgrade its technology to meet world standards and show improved performance in global trade.

India urgently needs a National Chemicals Policy, which has been pending since 2008 with few signs of progression.