Chandigarh, first in the race to assess the carbon footprint of individuals
Context
Chandigarh became the first state or Union Territory in India to launch Carbon Watch, a mobile application to assess the carbon footprint of an individual.
Background
India is among the fastest-growing economies and the third largest emitting country in the world but has always held the onus of climate change on developed countries for their historical emissions.
India has high ambitions of industrial growth, while it also has the most vulnerable population, which will be impacted by climate change and would need protection.
The dichotomy that the country is in today is just one reason why India needs to do more to protect itself and its citizens from climate change.
With increasing extreme-weather events and threats of global warming, it is time to prepare for climate change on a war footing.
Analysis
What is Carbon Watch?
Carbon Watch is a mobile app for city residents to assess their carbon footprints.
The app focuses on individuals' actions and calculates carbon footprint based on transport, energy, waste, and water consumption.
It also suggests remedial actions and sensitizes people about their lifestyle emissions, their impact, and possible countermeasures to mitigate the same.
Its objective is to reduce it to make them climate-smart citizens.
It is developed by the Department of Environment and Forest.
The initiative will help keep the city and the country at the vanguard of the initiatives to protect the climate.
How will it work?
As a person downloads the application, they will need to fill details in four parts — Water, Energy, Waste Generation, and Transport (Vehicular movement).

Water: In the category of Water, the person will be required to inform about the consumption of water.
Energy: In the Energy category, the details regarding the electricity units consumed every month at the house, monthly bill, etc, and usage of solar energy will have to be furnished.
Waste: In the Waste category, the individual will need to inform about the waste generated on their part and their family.
Transport: In the transport section, the individual will have to inform about the mode of transport used by them- four wheeler, two-wheeler or bicycle.
Carbon footprint
A carbon footprint is the total amount of greenhouse gases (including carbon dioxide and methane) that are generated by our actions.
It includes carbon dioxide — the gas most commonly emitted by humans — and others, including methane, nitrous oxide, and fluorinated gases, which trap heat in the atmosphere, causing global warming.

According to WHO, a carbon footprint is a measure of the impact your activities have on the amount of carbon dioxide (CO2) produced through the burning of fossil fuels and is expressed as a weight of CO2 emissions produced in tonnes.
Recent Government efforts to address climate change
National Action Plan on Climate Change (NAPCC): It covers eight major missions on Solar, Enhanced Energy Efficiency, Sustainable Habitat, Water, Sustaining the Himalayan Ecosystem, Green India, Sustainable Agriculture and Strategic Knowledge on Climate Change
International Solar Alliances (ISA)
State Action Plan on Climate Change (SAPCC)
FAME Scheme – for E-mobility
Atal Mission for Rejuvenation & Urban Transformation (AMRUT) – for Smart Cities
Pradhan Mantri Ujjwala Yojana – for access to clean cooking fuel
UJALA scheme - for embracing energy-efficient LED bulbs
Swachh Bharat Mission
Paris Agreement
India has pledged under the Paris Agreement to reduce the carbon intensity of its economy by 33-35% by 2030, compared to 2005 levels.
Measures to reduce carbon footprints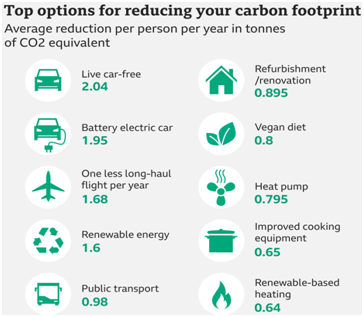 Significance of mapping carbon footprint
It helps to prepare for future environmental legislation
Manage carbon risk exposure and identify areas for improvement will become easy
It will improve efficiency and cut costs through reduced energy consumption
It helps to motivate and engage citizens by involving them in carbon reduction plans
Conclusion
To decrease the carbon footprints, India needs to remain on track and for this, it needs consistent 'challengers' whether in the form of an empowered and aware population or through a grassroots movement that informs the national policy while demanding sustainable and healthy growth for the country.