Enhances corporate image: Better credit rating for any credit investment enhances visibility and corporate image in the industry.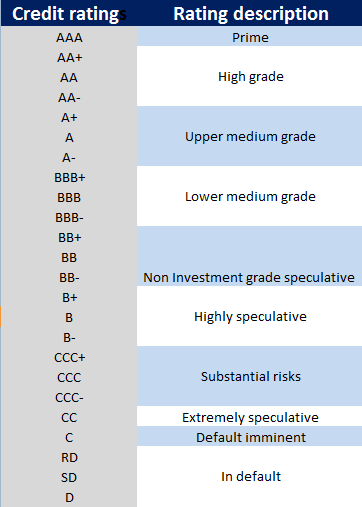 Problems with present domination of 'Big Three'
One problem is their credit rating methods are based on the Western political and economic system, and this is sometimes hard for emerging economies and developing countries to accept.

The pro-cyclical rating method used by the big three could be compared to hitting a man when he's down. During the Asian financial crisis (1997), the US sub-prime crisis (2008), the Greek debt crisis (2009), the European debt crisis (2009) and other world events, successive gloomy ratings arguably played a role in fueling and prolonging the crises.

The agencies have been accused of unfair rating results, manipulating the pricing power of the international financial market and hurting the interests of other countries and investors.

Another issue is the dominance of the big three has led to a lack of vitality and efficiency in the global credit rating industry. This brings the risk of bottlenecks in the development of the industry.
Sovereign credit ratings should not be politicized or become a new tool for political and economic hegemony. Debt credit rating technology should also keep pace with the times and strive to apply new technologies such as big data, cloud computing, mobile internet and artificial intelligence to credit information collection, default probability calculation, and dynamic credit management.
Today emerging market need alternative credit agency infrastructure, to change the hegemony of the 'big three'.
India's criticism of global credit rating firms is getting louder:
The government's longstanding grievance over not getting a credit-rating upgrade was reiterated in 2017 by the country's chief economic advisor, Arvind Subramanian. It was claimed that ratings firms have "inconsistent and poor standards".
Standard & Poor's (S&P) and Moody's, for instance (between 2003 to 2017), have not upgraded their ratings of India—from 'BBB-' and 'Baa3' respectively—despite its economy being one of the fastest growing globally. The firms indicated two main reasons for this: low per capita GDP and a high fiscal deficit. Both these ratings are the lowest category of the investment grade.
It is argued that, lower middle income countries experienced an average growth of 2.45% of GDP per capita (constant 2010 dollars) between 1970 and 2015. At this rate, the poorest of the lower middle income countries would take about 57 years to reach upper middle income status. So if this variable is really key to ratings, poorer countries might be provoked into saying, "Please don't bother this year, come back to assess us after half a century.
Credit rating agencies in India
Credit rating agencies in India do not have a distant past. They came into existence in the second half of the 1980s. As of now, there are six credit rating agencies registered under SEBI namely, CRISIL, ICRA, CARE, SMERA, Fitch India and Brickwork Ratings. Ratings provided by these agencies determine the nature and integrals of the loan. Higher the credit rating, lower is the rate of interest offered to the organization.
CRISIL
CRISIL stands for Credit Rating Information Services of India Limited and it was the first credit rating agency set up in India in 1987. Today, CRISIL has become a global analytical company that rates companies, researches the markets and provides risk and policy advisory services to its clients. At the time of incorporation, the agency was promoted by ICICI Limited, UTI and many such financial institutions. The agency started operations in 1988.
CRISIL is headquartered in Mumbai. CRISIL provides independent opinion and efficient solutions by performing data analysis and research. It has a strong track record of growth and innovation. CRISIL has expanded its business operation to USA, UK, Poland, Argentina, Hong Kong, China and Singapore apart from India. The majority shareholder of CRISIL is Standard & Poor's, one of the biggest credit rating agencies of the world.
CARE
Credit Analysis and Research limited was established in 1993 and since then it has gone on to become India's second largest credit rating agency. It was promoted by Industrial Development Bank of India (IDBI), Unit Trust of India (UTI) Bank, Canara Bank and other financial institutions. CARE has the primary function to perform rating of debt instruments, credit analysis rating, loan rating, corporate governance rating, claims-paying ability of insurance companies, etc. It also grades construction entities and courses undertaken by maritime training institutions. Ratings provided by CARE include financial institutions, state governments and municipal bodies, public utilities and special purpose vehicles.
ICRA
Originally named as Investment Information and Credit Rating Agency, the organization was set up in 1991. It was a joint venture of Moody's and Indian financial and banking service organizations.
ICRA assigns corporate governance rating, performance ratings, grading and provides ranking to mutual funds, hospitals and construction and real estate companies. ICRA ratings are used to analyze the credit risk in India. It does not cater to the international companies and organizations.