Elevating India-Tanzania Relations: A Strategic Partnership Unveiled
Context:
During Tanzanian President SamiaSuluhu Hassan's State Visit to India, the two countries agreed on a five-year defence roadmap and decided to elevate their ties to a "strategic partnership."
Key-highlights of the Pact
Defence:In the field of defence, the two countries have agreed on a five-year roadmap. This roadmap encompasses military training, maritime activities, and the expansion of defence industries
Participation in Indian initiatives:Tanzania extended its involvement in significant Indian initiatives, notably:

International Big Cat Alliance (IBCA)
Global Biofuels Alliance (GBA)

ITEC:India has pledged an additional 1,000 Indian Technical and Economic Cooperation (ITEC) slots to Tanzania, focusing on key areas such as smart ports, space exploration, biotechnology, and more, spanning a five-year horizon.
White shipping information sharing: The two sides also signed a technical agreement on sharing white shipping information and beginning a cultural exchange program between the two governments for 2023-2027.
India called Tanzania an important partner in the Indo-Pacific.
Tanzanian President Samia Suluhu Hassan was also conferred with an honorary doctorate by the Jawaharlal Nehru University for fostering stronger India-Tanzania ties.
India-Tanzania Relations
Tanzania is India's largest and closest development partner in Africa.
India currently holds the esteemed position of being Tanzania's third-largest trading partner and the fifth-largest investor in the nation.
Tanzania has expressed unwavering support for India's aspiration to secure non-permanent membership in the United Nations Security Council (UNSC) for the year 2028.
Why Tanzania assumes significance for India?
Essential gateway in Africa: The African nation offers a diverse and robust economythat offers avenues for trade and investment across various sectors, including agriculture, mining, energy, infrastructure, pharmaceuticals, and information technology.
Maritime connectivity:Tanzania's coastline along the Indian Ocean provides crucial maritime connectivity and trade routes.

The port of Dar es Salaam, the largest port in East Africa, plays a pivotal role in facilitating trade and commerce not only for Tanzania but also for landlocked countries in the region.

Important place in policies: Both are maritime neighbours with a long history of trade and people to people linkages therefore Tanzania has an important place in India's vision of SAGAR (Security and Growth for all in the Region).
Energy resource: It has substantial energy resources, including natural gas and renewable energy potential.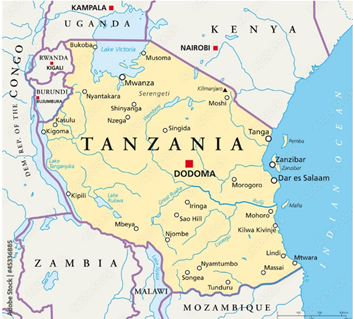 Tanzania is the largest country in East Africa and includes the islands of Zanzibar, Pemba, and Mafia. About twice the size of California, this African country is bordered by the Indian Ocean and eight countries: Kenya, Uganda, Rwanda, Burundi, Democratic Republic of Congo, Zambia, Malawi, and Mozambique.