Global impact of high BP: WHO Report
Context
Recently, the World Health Organization (WHO) has released it's first-ever report on the global impact of high blood pressure.
Hypertension is the most important risk factor for death and disability in India, according to a paper in The Lancet, regional health (South-east Asia), published late last year.
Highlights of the Report:
The WHO report states that hypertension affects one in three adults worldwide. This common, deadly condition leads to stroke, heart attack, heart failure, kidney damage and many other health problems.
Approximately four out of every five people with hypertension are not adequately treated, but if countries can scale up coverage, 76 million deaths could be averted between 2023 and 2050.
The number of people living with hypertension (blood pressure of 140/90 mmHg or higher or taking medication for hypertension) doubled between 1990 and 2019, from 650 million to 1.3 billion.
Nearly half of people with hypertension globally are currently unaware of their condition.
More than three-quarters of adults with hypertension live in low- and middle-income countries.
The world organisation states that lifestyle changes such as eating a healthier diet, quitting tobacco and being more active can help lower blood pressure.
The economic benefits of improved hypertension treat­ment programmes outweigh the costs by about 18 to 1.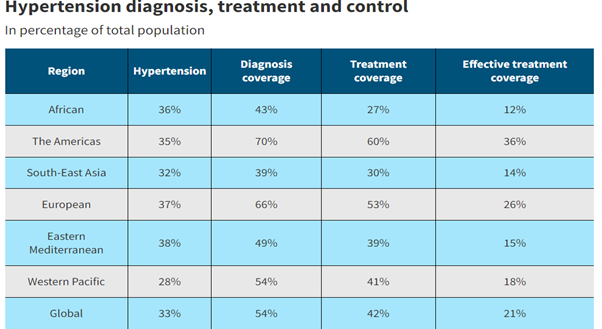 What is Hypertension?
Hypertension (high blood pressure) is when the pressure in your blood vessels is too high (140/90 mmHg or higher).
It is common but can be serious if not treated.
People with high blood pressure may not feel symptoms. The only way to know is to get your blood pressure checked.
Blood pressure is written as two numbers;

The first (systolic) number represents the pressure in blood vessels when the heart contracts or beats.
The second (diastolic) number represents the pressure in the vessels when the heart rests between beats.

Hypertension is diagnosed if, when it is measured on two different days, the systolic blood pressure readings on both days is ≥140 mmHg and/or the diastolic blood pressure readings on both days is ≥90 mmHg.
Things that increase the risk of having high blood pressure include:

older age
genetics
being overweight or obese
not being physically active
high-salt diet
drinking too much alcohol
Key facts
An estimated 1.28 billion adults aged 30–79 years worldwide have hypertension, most (two-thirds) living in low- and middle-income countries
An estimated 46% of adults with hypertension are unaware that they have the condition.
Less than half of adults (42%) with hypertension are diagnosed and treated.
Approximately 1 in 5 adults (21%) with hypertension have it under control.
Hypertension is a major cause of premature death worldwide.
One of the global targets for non-communicable diseases is to reduce the prevalence of hypertension by 33% between 2010 and 2030.
Government Initiatives
Hypertension Control Initiative Programme: It is a large-scale hypertension intervention under the National Health Mission and has been recognised for its positive work done within the country's existing primary healthcare system.
Indian Hypertension Control Initiative (IHCI) is a 5-year initiative involving the Ministry of Health & Family Welfare, Indian Council of Medical Research, State Governments, and WHO-India.

By December 2021, the IHCI program was implemented in 101 districts across 19 states and enrolled more than 20 lakh patients in 13,000+health facilities.
In the 26 initial Phase I districts, nearly one-fifth (22%) of the estimated total number of people with hypertension in the district were enrolled.