India's 'untouchable' women &discrimination
Context
Despite outlawing caste-based discrimination in 1950, Dalits still get discriminated against when applying for programs such as microloan schemes which are actually established to help them.
About
Challenges faced by Dalit Women:
Plethora of issues:Dalit women continue to suffer from a high degree of poverty, gender discrimination, caste discrimination, and socioeconomic deprivation.
Violence: Girls face violence at a younger age and at a higher rate than women of other castes.
Others

Exploitation by dominant castes
Lack of justice
Workplace violence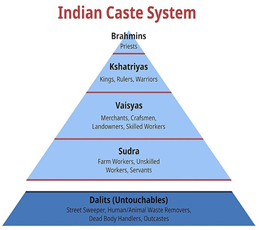 How caste plays its role in occupation?
Caste is essentially the stratification of peopleinto a rigid occupational hierarchy.
Dalits who are the last in the list, often called "untouchables" are excluded from all jobs except the worst paid and most degrading — on the pretext of maintaining the spiritual purity of those in higher castes.
An attempt to help
In India, microloan programs have been embraced as a poverty-reduction policy.
Microloans are offered by for-profit, not-for-profit and government-owned banks.

The Reserve Bank of India regulates the sector and acts as a guarantor of microloans given by banks under national government-sponsored poverty alleviation schemes.
The Reserve Bank of India underwrites incentives including interest rates about half that offered to other women.
What are the problem with microloans?
Poor implementation of microfinance programs
lack of outcomes for Dalit women entrepreneurs in India
Discrimination at the branch level
Being humiliated when applying for a microloan — of help being refused when filling in a form, of being told not to sit on the same chairs as other bank customers, and of their application being rejected for no good reason.
How caste certificates 'too' creates hurdle?
To qualify for a program to assist Dalits, they had to prove they're a Dalit by supplying a government-issued caste certificate.
But this certificate then became the means for them be identified as Dalits and discriminated against.
Extra information
Unsung Dalit women heroes
Sabari from the Ramayana: example of acceptance, selflessness, and unconditional love
Sant Nirmala and Soyarabai: From Mahar caste, questioning Hindu orthodoxy.
Naegeli: Fought against the cruel "breast tax" system.
Kuyili: She commanded the army of Velu Nachiyar.
Queen of Sivaganga in Tamil Nadu: Dalit woman who fought against the British around 1780.
Jhalkaribai: Most trusted companion and advisor of Rani Laxmibai of Jhansi.
Uda Devil: formed a battalion consisting of Dalit women under the leadership of Begum Hazrat Mahal.
Savitribai Phule: A pioneer in education for Dalits
Moovalur Ramamirtham Ammaiyar fought against the exploitative Devadasi system.
Dakshayani Velayudhan: first and only Dalit woman to be elected to the constituent assembly in 1946.
Initiatives Taken to Promote Transformation
Pradhan Mantri Kaushal Vikas Yojana (PMKVY)
Skills Acquisition and Knowledge Awareness for Livelihood (SANKALP) Scheme
Stand Up India Scheme
Pradhan Mantri Mudra Yojana