Is India missing the graphene bus?
Context
India needs to catch up in the research and production of Graphene, which is the defining material of this age.
What is Graphene?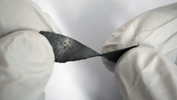 Definition: Graphene is the world's thinnest, strongest, and most conductive material of both electricity and heat.
Conductivity: It conducts electricity better than copper.
Strength: It is 200 times stronger than steel but six times lighter.
Capability: It is almost perfectly transparent as it absorbs only 2% of light. It is impermeable to gases, even those as light as hydrogen and helium.
Potential: It has the potential to revolutionize electricity, conductivity, energy generation, batteries, sensors and more.
Also, when added to other materials, graphene even in small quantities produces composite materials with dramatically transformed qualities
Uses:
Graphene composites are used in aerospace, automotive, sports equipment and construction.
It is used for high-performance batteries and super-capacitors, touchscreens, and conductive inks.
Graphene-based sensors are used for environmental monitoring, healthcare and wearable devices.
Graphene oxide membranes are used for water purification and desalination.
Graphene-based masks were made during
Why 'graphene' is an important material?
Graphene is important for defence and aerospace as well.
Its exceptional strength makes it promising material for armour and ballistic protection.
Graphene has the potential to absorb and dissipate electromagnetic waves, making it valuable for developing stealth coatings and materials that reduce radar signatures and electromagnetic interference.
Graphene is highly sensitive to environmental changes, which makes it an excellent candidate for sensing chemical and biological agents, explosives, radiation, and other hazardous substances.
The graphene-based materials can also protect us against chemical and biological attacks.
Better energy storage and electronics properties make graphene attractive in defence and aerospace as well as in civil and commercial applications.
China and Brazil are global leaders in the commercial production of graphene. India produces about one-twentieth compared to China and one-third compared to Brazil.
Recent developments in India:
The Centre for Nano Science and Engineering at IISc Bangalore along with KAS Tech produced a graphene-based system several years ago.
Tata Steel has succeeded in growing graphene (about 50 micrometers large domains) using annealingand extracting atomic carbon from steel surface.
It has also mixed graphene with used plastic products to recycle them as new.
India's niche is going to be innovation using graphene. It figured out how graphene oxide-based wrappers loaded with preservatives can increase the shelf life of fruits and vegetables.
The IIT Roorkee-incubated Log 9 has patented a technology for graphene-based ultracapacitors, and the IIT Kanpur-incubated RF Nanocomposites has developed EMI shielding and stealth technology using graphene-based nanotubes.