Manual Scavenging in India: A system failure
Context
Recently, Central government claims no deaths due to manual scavenging and instead calls them deaths due to hazardous cleaning of septic tanks and sewers.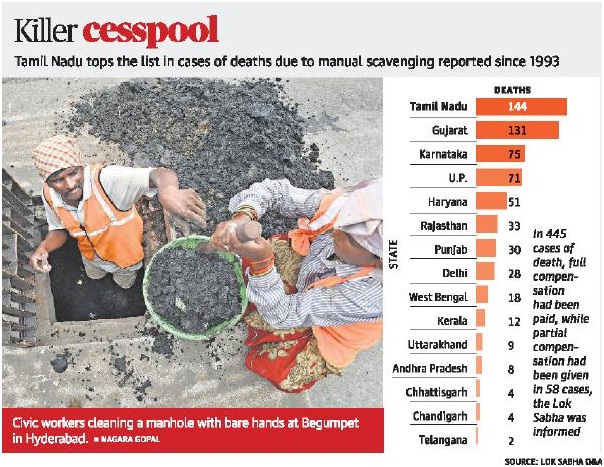 Background
What is Manual Scavenging?
Manual evacuation refers to the process of removing human and animal waste from dry toilets and transporting it for disposal.
It was officially banned by the anti-manual scavenging Act in 1993 as a degrading practice.
Unfortunately, the snatching by hand is still going on. According to the Socio Economic Caste Census 2011, 1.8 million families have joined the scam to earn a living.
Not only does it violate basic human rights to life but it also poses a serious threat to human health.
Manual Scavenging and related information:
Manual skipping is the practice of hand washing, carrying, disposing or handling in any way, human excrement from dry toilets and sewage pipes.
Despite blocking it 28 years ago by law, technological advances are increasing sensitivity to human rights, and manual abuse continues in India.
The Socio-Economic and Caste Census (SECC), released in 2015, estimates that there are an estimated 18 million families in rural areas.
A government survey identifies 12,226 fraudulent employees in 12 districts. Many septic tanks are hand-delivered in Indian cities.
Statistics show that 80% of Indian sanitation workers die before they turn 60, after contracting various infectious diseases.
There are 8000 urban areas and six lakhs villages with more accidents in the cities and large parts do not have sewage plants.
Recent developments
The Ministry of Social Justice and Empowerment will amend the law for making machine cleaning mandatory, whereas the Ministry of Housing and Urban Affairs has launched the SafaimitraSuraksha Challenge.
Amendment Act: Introduction of 'The Prohibition of Employment as Manual Scavengers and their Rehabilitation (Amendment) Bill, 2020' as part of the National Action Plan for the Department of Justice and Empowerment.
Aim: The Plan aims to make the modern sewerage system more efficient and less fuel-efficient; the establishment of a sewerage system and sewage treatment system with transport tanks, transport and treatment of sewage treatment; to equip municipalities, and establish Clean Response Units with support lines.
The Bill makes the following important changes:
Mechanical Cleaning: The Bill proposes to completely clean sewage systems and provide better occupational safety and compensation in the event of an accident.
Penalty: The Bill proposes to make the law prohibiting the seizure of hands more severe by increasing the time of detention and fines.

Currently, engaging any person for the purpose of hazardous cleaning of sewer pipes and sewerage tanks by any person or agency is punishable by imprisonment for up to five years or a fine of up to Rs. 5 lakh or both.

Funds: Funds will be given directly to sanitation workers and not to municipalities or contractors to purchase equipment.
Safai mitra Suraksha Challenge:
Presentation: The challenge was presented among 243 major cities on World Toilet Day (19 November).
Purpose: To prevent dangerous cleaning of sewage pipes and swimming pools and to promote mechanical cleaning.
The government introduced the "challenge" for all provinces to install sewage treatment plants by April 2021 - if anyone needs to go to the sewer in the event of an unavoidable emergency, proper tanks and oxygen tanks, etc.
Eligibility: Capitals of the state, local urban bodies and smart cities will be able to participate.
Prize: Cities will be awarded in less than three categories - with a population of more than 10 lakhs, 3-10 lakhs and up to 3 lakhs, with a total prize pool of Rs. 52 crores will be awarded to the winning cities in all categories.
Reasons for manual scavenging:
Caste-based staff segregation: Used scavengers from caste groups are usually demoted to the lower class and are assigned to livelihoods that are considered to be deplorable or deemed too low by the upper class groups.
Law Enforcement: The first anti-fraud law was passed in 1993. No one has ever been convicted under this Act. In 2013 the Manual Scavengers and their Revision Act were passed which repeated the provisions of the 1993 Act. Charges are made visible and undetectable. These provisions are not effective. Only when a fatal case arises, laws are enacted and resolved mainly by compensation negotiated with no action against the offender.
Unemployment: Unemployment rates are high in India. Unemployment rates in India are 7% according to data released by the Centre for Monitoring Indian Economy (CMIE). The availability of cheap jobs promotes handicrafts as a profession in India. Due to the lack of jobs, handicraftsmen go to this lowly job to earn a living.
Lack of water toilets: The main toilets used in urban areas are dry toilets which are the main causes of hand damage. In India, for example, there are 26 million dirty toilets. In addition, in rural areas, there are no established strategies for converting dry toilets.
How it's a state failure?
Persistence in various provinces: Recent examples from communities involved in genocide in the provinces of Gujarat, Madhya Pradesh, Maharashtra, Rajasthan, and Uttar Pradesh underscore the government's failure to eradicate genocide and eradicate deeply entrenched ideologies and practices that still bind members of affected communities.
Law Enforcement: India's constitution prohibits the practice of non-compliance, and the Bill of Rights, 1955, prohibits forcing anyone to use hand-scratching. The Employment of Manual Scavengers and Construction of Dry Latrines (Prohibition) Act, 1993 declared that the employment of hand guards and the construction of dry toilets would be punishable by fines and imprisonment. Yet its persistence reflects the failure of the law and the country.
Deaths:SafaiKarmachariAndolan, reported 1,269 people killed in the 2014-16 genocide. Reports of deaths of workers involved in cleaning and repairing pits in the mines, during the 'Swachh Bharat' period show the state's failure to eradicate the practice. Recently, three people were killed in Bangalore and Cuddalore, while working in underground mines. Inhaling toxic gases was a major cause.
Key Recommendations of NHRC
Broaden the definition of manual scavenging to cover other types of hazardous cleaning or enact a new law for it. A penal section may be put in law to prevent the discrimination and harassment faced by the children of manual scavengers and women manual scavengers.

The manual scavenger rehabilitation process can be linked to programs that may soon start to benefit such as MNREGA and visit to see how they and their families are doing;

Compensation: The amount of compensation paid as one-time financial assistance for renewal of equipment suppliers can be added to Rs. 40,000 / - to Rs. 1 Lakh. The Nodal authority / department that will bear the costs of that Compensation can also be clearly stated;
Be sure to remove the role of intermediaries by making arrangements such as direct transfer of benefits or in collaboration with NGOs;
Strict measures against local authorities hiring people to work as hand guards; App and free complaint registration number;
The National Crime Research Bureau (NCRB) to monitor sewage and the details shown in its report.
The Union Treasury may set up a National Bank so that each State can take the responsibility of extending the loan to Manual Scavengers and their sponsors up to Rs.10.00 lakhs to do business;
Any individual or group insurance must be provided to Manual Scavengers and the advance payment will be paid by the Local Bodies concerned;
The National SafaiKaramcharis Finance and Development Corporation (NSKFDC) can provide financial assistance to hand guards to help them get started in the field of sanitation and training for them.
Government Initiative in this regard
The Prohibition of Employment as Manual Scavengers and Their Rehabilitation Act, 2013 prohibits the construction or maintenance of unhygienic toilets, and the hiring of any person by hand cleaning or hazardous cleaning of sewer pipes and swimming pools.

It also provides measures to rehabilitate people identified by the Municipality as service providers.

In 2014, the Supreme Court ordered the government to identify all those who died in the wild since 1993 and to provide Rs. 10 lakh each as compensation for their families.
In 1993, the Government of India introduced the Manual Scavengers and the Construction of Dry Latrines (Prohibition) Act prohibiting the hiring of hand-operated scavengers to clean dry toilets and the construction of flush toilets.
In 1989, the Prevention of Atrocities Act became an integrated security guard for sanitation workers; more than 90% of the people employed as handicraftsmen belong to Organized Caste. This was an important sign of the liberation of artisans from selected traditional practices.
Article 21 of the Constitution guarantees the 'Right to Life' and also with dignity.
Swachhta Abhiyan App': It has been developed to identify and geotag the data of insanitary latrines and manual scavengers so that the insanitary latrines can be replaced with sanitary latrines and rehabilitate all the manual scavengers to provide dignity of life to them.
Way Forward
Proper Ownership: Nations need to accurately calculate the number of workers involved in cleaning up toxic mud.
Empowering Local Authorities: With the Swachh Bharat Mission identified as a priority area by the 15th Financial Commission, and the available funds for smart cities and urban development provide a strong case to deal with the problem of manual seizures.
Social Sensitisation: To deal with social punishment after hand-to-hand extinction, it is necessary to first acknowledge and understand why and why hand-breaking continues to be included in the classification system.
Need for Strict Law: If the law creates a legal obligation to provide sanitation services to organs of state, it will create a situation where the rights of these workers will not be suspended.