RBI's pilot launch of the wholesale digital Rupee Wholesale segment (CBDC)
Context
The Reserve Bank of India (RBI) is going to commence the pilot launch of the wholesale digital Rupee Wholesale segment (CBDC) on November 1, 2022, and has also issued a concept note.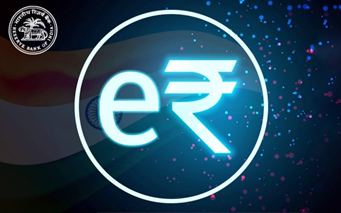 Details:
The first pilot in the Digital Rupee, Wholesale segment (e?-W) will commence on November 1, 2022.
The use case for this pilot is the settlement of secondary market transactions in government securities.
Nine prominent banks have been identified for participation in the pilot.
Other wholesale transactions and cross-border payments will be the focus of future pilots.
The first pilot in the Digital Rupee-Retail segment (e?-R) is also planned alongside for rollout in select locations in a closed user group.
Highlights of the Concept Note issued on CBDC:
The purpose behind the issue of this Concept Note is to create awareness about CBDCs in general and the planned features of the Digital Rupee (e?).
It explains the objectives, choices, benefits, and risks of issuing a CBDC in India. The Note also seeks to explain Reserve Bank's approach toward the introduction of the CBDC.
It discusses key considerations such as technology and design choices, possible uses of the Digital Rupee, issuance mechanisms, etc.
It examines the implications of the introduction of CBDC on the banking system, monetary policy, and financial stability, and analyses privacy issues.
About Central Bank Digital Currency (CBDC):
A CBDC is no different from the cash that we hold in our wallets, except that it exists in a digital form.
The CBDC will be held in a digital wallet that is supervised by the Central bank.
In India, it will be the RBI that supervises the digital rupee although it may delegate some power to banks.
RBI's digital rupee will not directly replace demand deposits held in banks.
Physical cash will continue to be used by banks, and people who wish to withdraw cash from banks can still do so.
Types of CBDC:
CBDC can be classified into two broad types viz. general purpose or retail (CBDC-R) and wholesale (CBDC-W).
Retail CBDC would be potentially available for use by all viz. private sector, non-financial consumers, and businesses. Retail CBDC is an electronic version of cash primarily meant for retail transactions.
Wholesale CBDC is designed for restricted access to select financial institutions. Wholesale CBDC is intended for the settlement of interbank transfers and related wholesale transactions.
Advantages:
The use of e?-W is expected to make the interbank market more efficient.
Settlement in central bank money would reduce transaction costs by pre-emptying the need for settlement guarantee infrastructure or for collateral to mitigate settlement