SC dismissal of Devas plea to help India in global arbitration
Context
The controversial deal between the Indian Department of Space's commercial entity Antrix and Bengaluru-based start-up Devas Multimedia has been under the scanner for more than a decade now. The recent judgment bolsters the Union of India's case against Devas internationally, especially against the arbitration award for Devas that is under consideration with the judiciary of the Netherlands.
Background
In 2005, Antrix Corporation, the government-owned commercial arm of ISRO, signed an agreement with Bangalore-based Devas Multimedia for a 12-year lease of 90% transponder space on two satellites, G-SAT6 and G-SAT6A that were yet to be launched.

Of the 150 MHz of space that ISRO owned in the

S-band spectrum

, Devas was allowed the use of 70 MHz to launch satellite-based applications on mobile devices.

Devas, which had a few former ISRO scientists in its top management, was supposed to pay $300 million to Antrix over the 12 years.



The

S-band spectrum is

extremely valuable for mobile broadband services, in terms of usage as well as money. The frequency, also known as the 2.5 GHz band, is globally used for providing mobile broadband services using fourth-generation technologies such as WiMax and Long Term Evolution (LTE). It is less susceptible to rain fading compared to Ku and Ka bands.

The deal was cancelled in 2011 and while doing so the Indian government did not even invoke the national security clause.

In 2011, the UPA-2 government cancelled this agreement on the ground that it needed the S-band satellite spectrum for national security and other social purposes.

This led to arbitration between Antrix and Devas at the

International Chambers of Commerce (ICC)

and two bilateral investment treaty (BIT) arbitrations. India lost all three disputes.
International Chamber of Commerce (ICC):
ICC is the world's largest business organization working to promote international trade and responsible business conduct.

It has been helping to resolve difficulties in international commercial and business disputes to support trade and investment since 1923.

ICC headquarters is in Paris, France.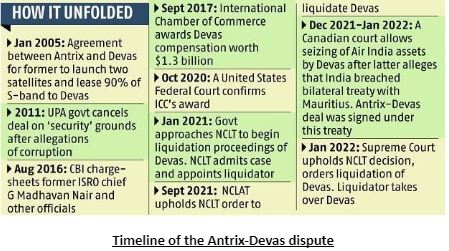 Analysis
Reasons for the government sighted for the scrapping of the deal:
In 2011, Antrix issued a termination notice to Devas, which among other things stated that the policy decision was of the central government, acting its sovereign capacity is the event of

force majeure

(unforeseeable circumstances that prevent someone from fulfilling a contract).

The findings of a draft audit report pointed out discrepancies including financial mismanagement, conflict of interest, non-compliance of rules, and favouritism.

The government also held that it needed the S-band satellite spectrum for national security and other social purposes.
What did DEVAS do?
Devas moved to the Supreme court and several other international courts against Antrix for "wrongful" termination of the deal.

SC had then directed for a tribunal, which in its order on September 14, 2015, concluded that Antrix has wrongfully repudiated the agreement and asked it to pay $562.3 million as damages to Devas along with interests' rates which crossed the compensation amount to over $1 billion.
International Tribunal Arbitration:
Devas Multimedia initiated arbitration against the annulment at the

International Chambers of Commerce (ICC).

Under the

Bilateral Investment Treaty (BIT)

, two separate arbitrations were also initiated by Mauritius investors in Devas Multimedia under the India-Mauritius BIT and by Deutsche Telekom, a German company under the India- Germany BIT.

India lost all three disputes and has to pay a total of USD 1.29 billion in damages.
Outcome of international Tribunal Arbitration:
Due to non-payment of compensation by the Indian Government, a French court has recently ordered the freezing of Indian government property in Paris, to enforce a $1.3 billion arbitration award. A similar judgement has also been passed by a Canadian court.
Arbitration Scenario in India:
The Supreme Court has upheld the

National Company Law Appellate Tribunal's

order to

wind up Devas Multimedia

. It has also upheld the

liquidation of Devas Multimedia

, and said the contention of Antrix that fraud had happened "stood established".

These tribunals directed the winding up of Devas Multimedia and appointed a provisional liquidator for the purpose.
Antrix Corporation Limited:
Antrix Corporation Limited (ACL), Bengaluru is a wholly-owned Government of India Company under the administrative control of the Department of Space.

It was incorporated as a private limited company owned by the Government of India in September 1992.

It is a marketing arm of ISRO for promotion and commercial exploitation of space products, technical consultancy services and transfer of technologies developed by ISRO.

Another major objective is to facilitate the development of space-related industrial capabilities in India.
Why are AAI and Air India being targeted?
AAI and Air India are being targeted because they are Indian public sector entities with overseas assets and serve as a proxy for the government of India.

The Canadian court can do so through the concept of

Restrictive Immunity.

In the meanwhile, the

National Company Law Tribunal (NCLT)

ordered the liquidation of Devas Multimedia on the ground that the affairs of the company were being carried on fraudulently.
Jurisdiction of Canadian court related to the attachment of Indian assets:
State immunity

: It is a well-established principle of international law-shields a state and its property against legal proceedings in the courts of other countries. This covers immunity from both jurisdiction and execution.

However, there is no international legal instrument in force dealing with state immunity in the municipal legal systems of different countries, which has created an international void.

Consequently, countries have filled this void through their national legislations and domestic judicial practices on state immunity.

Typically, prominent jurisdictions such as Canada follow the concept of

Restrictive Immunity

(a foreign State is immune only for sovereign functions) and not absolute immunity.
Impact of Supreme Court latest judgement:
The Supreme Court's dismissal of the appeal filed by Devas Multimedia against the decision of the

National Company Law Appellate Tribunal (NCLAT),

which had upheld the National Company Law Tribunal's decision to wind up the company, has

significant political and economic ramifications and India will likely use it while fighting against an international arbitration award won by Devas,

whose enforcement the company has been pushing for outside India.
Key observation from Supreme Court's Judgement, that India will be putting forth to supports its arguments:
The commercial relationship between Antrix and Devas was a product of the fraud perpetrated by Devas, every part of the plant that grew out of these seeds, such as the agreement, the disputes, arbitral awards, etc are infected with the poison of fraud.

Allowing Devas and its shareholders to reap the benefit of their fraudulent action, may nevertheless send the wrong message.
Conclusion:
The Supreme Court's recent judgment can be seen in favour of the Union of India and it strengthens its case against Devas in global arbitration, especially against the arbitration award for Devas that is under consideration with the judiciary of the Netherlands. If India succeeds in defending its point in global arbitration, it also means that it will be saving on taxpayers money too as the Devas shareholders are pursuing Indian assets abroad to recover $1.29 billion that international arbitration tribunals awarded over the satellite contract that was cancelled in 2011.