SC moots verdict for 'bodily autonomy' under MTP Act
Context
The Supreme Court said it may loosen the restrictive grip of a 51-year-old abortion law which bars unmarried women from terminating pregnancies which are up to 24 weeks old, saying the prohibition was "manifestly arbitrary and violative of women's right to bodily autonomy and dignity".
Background
The Supreme Court noted that the Rules permit termination of pregnancies of up to 24 weeks in seven specific categories.
It includes survivors of rape or sexual assault, minors, in case of physical disabilities, and fetal malformation.


MTP Act: The Medical Termination of Pregnancy Act of 1971 and its Rules of 2003 prohibit unmarried women who are between 20 weeks to 24 weeks pregnant to abort with the help of registered medical practitioners.
Analysis
What is women's 'bodily autonomy'?
Bodily autonomy and integrity can be understood as the power to make our own choices about our own bodies.
They are grounded in gender equality and human rights, and are necessary for women's empowerment and to achieve the Sustainable Development Goals.
Laws regarding body autonomy pertain to abortion laws, marriage laws, gender identity laws, and even laws related to medicine, amongst others.
The sad reality
In India, 12 per cent of currently married women (15-49 years of age)make independent healthcare decisions, 63 per cent decide jointly and for 23 per cent, the spouse decides, according to National Family Health Survey-4.
Reproductive choice in India
India has a strong jurisprudence on reproductive rights where reproductive choices are read within the personal liberty guaranteed under Article 21 of the Constitution.
The Supreme Court has said that "reproductive rights include a woman's entitlement to carry a pregnancy to its full term, to give birth, and to subsequently raise children; and that these rights form part of a woman's right to privacy, dignity, and bodily integrity".
But the recently passed the MTP Act falls short of giving a woman full authority in deciding if an abortion is required after 24 weeks and relegates it to a board of specialists.
Barriers to Accessing Safe Abortion Services in India
Despite the Medical Termination of Pregnancy Act, 2021 allowing all women in India to abort a foetus up to 20 weeks of pregnancy and 24 weeks for women under special conditions, thousands have their reproductive rights denied and physical autonomy curtailed, mainly by the:
Patriarchal attitudes of doctors and service providers
Denied abortion service
Improper implementation of abortion and anti-foeticide laws
Social pressure
Patriarchal morality
lack of women's agency and fear of anti-foeticide laws
lack of contraception options
lack of medical or legal awareness
lack of agency or autonomy over their own bodies (which is equally pervasive in urban spaces)
Need of Bodily Autonomy & Integrity:
Attainment of rights: The recognition of women's sexual and reproductive rights - that is their ability to take decisions in relation to their bodies and sexuality - is a prerequisite for ensuring their full enjoyment of rights.
Towards betterment: Women's having the autonomy to determine their own fate without undue policing of their bodies is a pre-requisite to living a life with dignity.
Development of all: Places that afforded women more autonomy by enabling them to put off marriage until comfortably into adulthood, like the United Kingdom on the eve of the Industrial Revolution, thrived economically, the study

found

. Those that did not

fell behind

.
According to United Nations Population Fund (UNFPA) "Where there are gender-discriminatory social norms, women's and girls' bodies can be subject to choices made not by them, but by others, from intimate partners to legislatures. When control rests elsewhere, autonomy remains perpetually out of reach".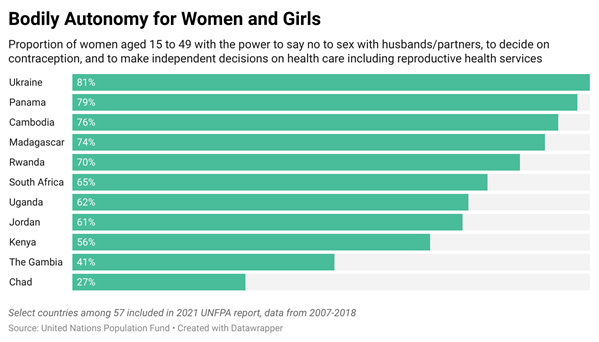 Conclusion:
Depriving women and girls of bodily autonomy is wrong. It causes and reinforces inequalities and violence, all of which arise from gender discrimination.