The Patna Police has lodged a case against two voluntary city groups on the charge of "provocative and anti-national" lessons on the CAA/NRC to street girls at a Danapur residential school invoking Section 124A of IPC i.e., sedition.
Context
The Patna Police has lodged a case against two voluntary city groups on the charge of "provocative and anti-national" lessons on the CAA/NRC to street girls at a Danapur residential school invoking Section 124A of IPC i.e., sedition.
Background
The case was registered after the National Commission for Protection of Child Rights took suo motu cognizance of the matter, dating back to the passage of the CAA in Parliament in December 2019.
Following a letter from NCPCR, the police registered a case against the Umbrella Foundation and KDDC at the Danapur Police Station.
However after the enactment of CAA, 2019 there has been massive protest against the government and many people were arrested under the charges of sedition.
Analysis
What is the Sedition law?
The primary legislation criminalising sedition in India is the Indian Penal Code, 1860. Section 124A of the Code defines sedition, and also mentions the punishment.
The core elements of sedition are bringing or attempting to bring hatred, contempt or disaffection towards the government.
Further, the explanations to this section also clarify that mere disapprobation of measures or actions of government, intended to bring a constructive change by lawful means, without arising feelings of hatred, contempt or dissatisfaction does not amount to sedition.
How did Section 124A find its mention in Indian statute?
The original draft of the Indian Penal Code was drawn up in 1837 by the Indian Law Commission headed by T.B. Macaulay whose Draft Penal Code 1837 consisted of section 113 that corresponded to section 124-A IPC.
Section 113 of this draft made "excite feelings of disaffection against the government" an offence under IPC.
However, this section was not included in the IPC when it was enacted in 1860.This omission was attributed to a clerical error.
An amendment was introduced to the Indian Penal Code in 1870, and Section 113 of Macaulay's draft was inserted into the IPC as Section 124-A.
There is some evidence to suggest that sedition was finally made an offence during British Raj because the colonial government feared a Wahabi uprising.
The history of enactment of Sedition shows that it was clearly meant to suppress the voices of freedom fighters and anyone who dared raise their voice against the inhumane, exploitative and structurally discriminatory practices against Indian people
Trials related to Section 124A before independence
Emperor vs Bal Gangadhar Tilak

Tilak faced three sedition trials, one in 1897 and the other in 1908 and was convicted in both, but acquitted in 1916 trial.
In 1897 he was charged of inflammatory speech against state, popularly related to "Shivaji's Utterances" published in Kesari, which lead to the murder of Plague Relief Committee WC Rand
In 1909, he was again charged with sedition and intensifying racial animosity between Indians and the British

Mahatma Gandhi's trial for sedition
Trials related to Section 124A post-independence
Kedar Nath Singh vs State of Bihar, 1962

Supreme Court held that Section 124A is constitutionally valid and the restrictions are in the interest of public order and are within the ambit of permissible legislative interference with the fundamental right

Balwant Singh and Ors. vs State of Punjab, 1995

SC held that mere raising of slogans which neither evoked any response nor any reaction from anyone in the public can not attract the provisions ofSection 124A.
Facts related to cases filed under sedition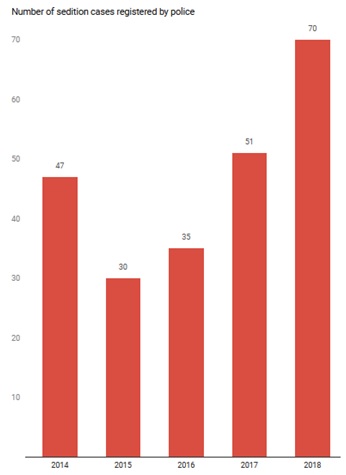 Cases have increased in recent years
Jharkhand,Assam, Haryana and Bihar account for more than half of all sedition cases between 2018-18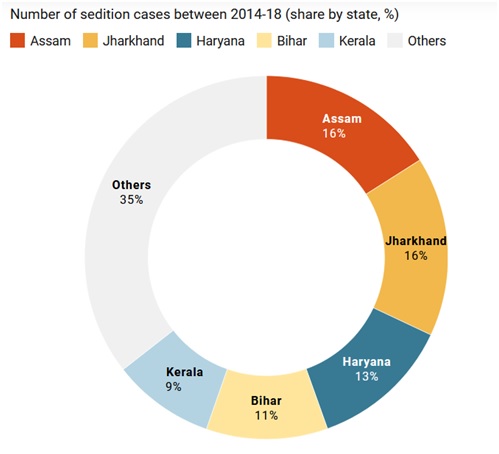 The conviction rate is very poor


Strong case to revisit Section 124A
Constitutional Assembly debate

There has been serious opposition to include sedition as restriction on freedom of speech and expression. The Constituent Assembly was unanimous ingetting the word 'sedition' deleted from Article 13 of the draft Constitution.
Ananthasayanam Ayyangar argued that it must be the fundamental right of every citizen in the country to overthrow that government without violence.
However, a restriction was also discussed to be enacted if incases where the entire state itself is sought to be overthrown or undermined by force or otherwise, leading to public disorder.

Stifles constructive criticism weakening democracy

124-A violates one of the basic facets of a democracy i.e., holding the government accountable. In a country where citizens cannot voice the criticism of their government's actions, demand accountability, raise questions and point at wrongdoings cannot, be a functional democracy.
124A does not only violate freedom of speech but also aids the government in nakedly disenfranchising it political rivals and critics.

Poor conviction rate

Between 2014-16, 179 people were arrested and 112 sedition cases filed with only two of the cases resulting in conviction.
The point of the matter is that when a law instead of being constructively used is being misused by the authorities to marginalize their critics, such law should be deleted before it becomes a potent weapon of oppression.
Most of the cases of Sedition do not make it to court, let alone result in conviction.

Presence of ample safeguards against the culprits

Reasonable restrictions provided under Article 19(2), Unlawful Activities (Prevention) Act, 1967, Sections 121,122,123,131,141,143,153-A, Contempt of Court Act, 1971 and Prevention of Insults to National Honour Act, 1971, provide more than enough safeguards for acts likely to come under Sedition

Sedition repealed by England

It is ironic that the country, England, which planted the seeds of Section 124A on Indian soil, has since long repealed the same out of the fear of being associated to draconian laws.
Conclusion
It is necessary to bring reforms in Section 124A in such a fashion that its misuse is checked. It has been suggested that section 108 of CrPC 1973 is a good answer to the issue of misuse of section 124A. The State governments should issue a direction to all Police stations to consider section 108 of CrPC 1973 before registering an FIR under section 124A of IPC and arresting a person. Section 124A can also be amended to make it non cognizable and bailable, if the case is registered by one individual complaint.
This will also check misuse of the law, thereby preventing unnecessary arrests and other infringements of individual dignity and freedom of speech and expression. The Law Commission had also suggested that a healthy debate should take place among the legal luminaries, lawmakers, Government and non-Government agencies, academia, students and above all, the general public, on the above issues, so that a public friendly amendment could be brought about, hence substantiating the need for the cause to revisit Section 124A.