Winter air pollution and stubble burning in North India
Context
Every year, the residents of India's capital region and surrounding areas experience hazardous levels of air pollution at the beginning of winter. Smoke from stubble burning in the adjoining farmland areas of the states of Haryana and Punjab, as well as fumes from vehicles and industry, enshroud the city as lower temperatures and slower-moving winds trap pollutants in the air.
Analysis
Who is responsible for the pollution?
What other reasons are responsible?
Dust and vehicular pollution: Dust and vehicular pollution are the two biggest causes of dipping air quality in Delhi in winters. Dry cold weather means dust is prevalent in the entire region, which does not see many rainy days between October and June.
Geography: Disadvantaged geographic location and regional meteorology with windy and dusty conditions during summer contributes greatly to Delhi's air pollution. Low relative humidity further increases particle re-suspension.
Overpopulation: Over-population only adds up to the various types of pollution, whether it is air pollution or noise pollution.
Stagnant winds: Due to winter conditions, dust particles and pollutants in the air become unable to move. Stagnant winds lock these pollutants in the air and affect weather conditions, resulting in smog.
Large-scale construction is another culprit.
Industrial pollution and garbage dumps increase air pollution and building-up smog in the air.
Crackers (banned): Crackers contributed to smog's build-up.
Winter inversion
Summer: In summer, the air in the planetary boundary layer (the lowest part of the atmosphere) is warmer and lighter and rises upwards more easily.

This carries pollutants away from the ground and mixes them with cleaner air in the upper layers of the atmosphere in a process called 'vertical mixing'.

Winters: During winters the planetary boundary layer is thinner as the cooler air near the earth's surface is dense.

The cooler air is trapped under the warm air above that forms a kind of atmospheric 'lid'. This phenomenon is called winter inversion.
Since the vertical mixing of air happens only within this layer, the pollutants released lack enough space to disperse in the atmosphere.
Note: The effects of inversion are stronger at night, which is why air quality levels drop overnight. (This is why experts ask people to refrain from early morning walks)
How bad is air pollution in Delhi?
Atmospheric levels of harmful small particles which can be inhaled - known as 5 - are currently far above international guidelines set by the World Health Organization (WHO).
The toxic soup over north India is composed of several types of pollutants such as sulfur dioxide (SO2), nitrogen dioxide (NO2), PM2.5, PM10, and Ozone.
The most harmful ones are PM2.5 and NO2.

NO2 (sources): Emission by vehicles and power plants
5 (source): industries, vehicles, power plants, crop and garbage burning, and diesel generators

Health Impacts: The health impact of these pollutants can range from

asthma
cancer
strokes
Alzheimer's disease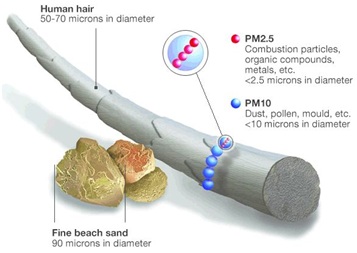 WHO's limits for air pollution
The World Health Organization has cut its recommended limits for air pollution, for the first time since 2005. The new recommendations target pollutants including particulate matter and nitrogen dioxide, both of which are found in fossil fuel emissions.
NO2:The new limit for nitrogen dioxide (NO2), mainly produced by diesel engines, is now 75% lower.
PM 2.5:Under the new guidelines, the WHO halved the recommended limit for the average annual PM2.5 level from 10 micrograms per cubic meter to 5.
PM 10:It also lowered the recommended limit for PM10 from 20 micrograms to 15.
These guidelines are not legally binding.
WHO's 2005 guideline
2005 WHO Air quality guidelines offer global guidance on thresholds and limits for key air pollutants that pose health risks.
The Guidelines indicate that by reducing particulate matter (PM10) pollution from 70 to 20 micrograms per cubic meter (μg/m), we can cut air pollution-related deaths by around 15%.
Government initiatives to safeguard the environment
Graded Response Action Plan: Delhi launched a 'Graded Response Action Plan' under directions from the Supreme Court.
NCAP: Launched in 2019, the National Clean Air Programme (NCAP) aimed at a long-term, time-bound, national-level strategy to tackle the air pollution problem across the country in a comprehensive manner with targets to achieve a 20 percent to 30 percent reduction in particulate matter concentrations by 2024, keeping 2017 as the base year.
Green Skill Development program: Launched in 2017 by the Ministry of Environment, Forest, and Climate Change under

PM Narendra Modi

, the Green Skill Development program aims to introduce innovative skills among the youth working in the environment and forest sector.
Compensatory Afforestation Fund Act (CAMPA): One of the most robust legal acts aiming to hold those, who exploit natural resources and forests for the development of industries, responsible. The Compensatory Afforestation Fund Act was introduced in 2016.
Namami Gange program: In 2014, PM Narendra Modi, considering the environmental value of the river Ganga, launched the Namami Gange program. The Centre allocated a total of Rs 20,000 crore to conserve and rejuvenate the river.
Nagar Van Scheme: Nagar Van Scheme was launched on the occasion of World Environment Day in 2020 (5th June). It aims to develop 200 Urban Forests across the country in the next five years.
Environmental Management in India
The Indian Parliament has enacted several laws to protect and improve the environment.

Wildlife (Protection) Act, 1972
Water (prevention and control of pollution) Act, 1974
The forest (Conservation) Act, 1989
The air (prevention and control of pollution) Act,1981

The Environment (Protection) Act, 1986
In addition the Constitution (forty-two amendments) of the Act, 1976 included two important provisions namely.

Article 48-A
Article 51A (g)
Right to a clean environment
The UN Human Rights Council (UNHRC) has recognized access to a clean and healthy environment as a 'fundamental right' in Geneva, Switzerland.
The right to a clean environment was centered on the Stockholm Declaration of 1972.
The Declaration emphasizes the "right to life, liberty and security of person, and the protection of human rights and fundamental freedoms".
Fifty years later, the declaration has been legally recognized.
Conclusion:
The situation needs better coordination between states, and afterward, city and regional-level pollution control plans need to be drawn up. Not only Delhi, but other states also need to get more serious and not treat high levels of pollution as a normal part of winter.