Zero defect zero effect scheme
Context
According to data shared by MSME ministry, nearly 25000 MSME registration has been done under zero defect, zero effect scheme launched by Prime Minister in October 2016.
Background
In India, the MSME industries play as a backbone for the Indian economy as it accounts for 30 percent of the Indian GDP.
It accounts for 45 percent of the total industrial employment, 50 percent of India's total exports and 95 percent of industrial units of the country.
Almost 6000 types of products are manufactured in the MSME industries as the data provided by its website.
These MSMEs need to get themselves registered before establishment. The registration provides the enterprises to avail of financial aid and benefits.
The financial aids and benefits include low-interest bank loans without any collateral security and Government assistance for the growth of MSME.
Analysis
What is Zero Defect Scheme?
The scheme is an extensive drive to create proper awareness in MSMEs about ZED manufacturing and motivate them for assessment of their enterprise for ZED and support them.
After ZED assessment, MSMEs can reduce wastages substantially, increase productivity, expand their market as IOPs, become vendors to CPSUs, have more IPRs, develop new products and processes etc.
Aim
The MSMEs can be a part of this scheme by manufacturing goods of certain prescribed standards that could be exported outside.
The major aim behind the compliance with the standards is that the products shall face good response and acceptance in the global markets.
The other perks are tax rebates and concessions on the exported goods.
Objective
The objective of the scheme for promotion of Zero Defect and Zero Effect (ZED) manufacturing amongst micro, small and medium enterprises (MSMEs) and ZED Assessment for their certification so as to:
Develop an Ecosystem for Zero Defect Manufacturing in MSMEs.
Promote adaptation of Quality tools/systems and Energy Efficient manufacturing.
Enable MSMEs for manufacturing of quality products.
Encourage MSMEs to constantly upgrade their quality standards in products and processes.
Drive manufacturing with adoption of Zero Defect production processes and without impacting the environment.
Support 'Make in India' campaign.
Develop professionals in the area of ZED manufacturing and certification.
Flow of scheme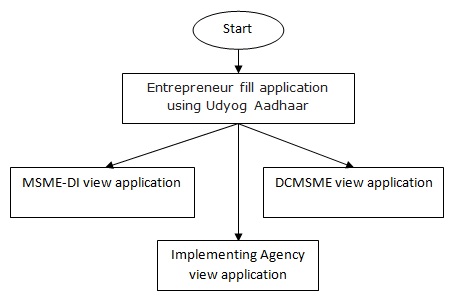 Implementing unit
Quality Council of India (QCI) has been appointed as the National Monitoring & Implementing Unit (NMIU) for implementation of ZED.

QCI has reported that 3217 MSMEs has been registered as on25.07.2017 for ZED Certification.
The MSME-wise details are

Micro: 1332
Small: 1522
Medium: 363
Revised classification of Enterprises
The revised classification of the enterprises is based on the criteria provided below:
An enterprise shall be called a micro-enterprise where the investment in machinery and equipment shall be not more than 1 crore rupees and turnover shall be not more than 5 crore rupees.
An enterprise shall be known as a small-enterprise where the investment in machinery and equipment shall be not more than ten crore rupees and the turnover shall not exceed more than fifty crore rupees.
An enterprise shall be known as a medium-scale enterprise where the investment in machinery and equipment is not more than fifty crore rupees and the turnover is not more than two-hundred-fifty crore rupees.
Stages of assessment
There are 3 stages of assessment to be ZED certified under five categories — Bronze, Silver, Gold, Diamond, and Platinum.
Out of 503 MSMEs, 131 were granted Bronze certification, 132 received Silver certification, 62 received Gold certification. Diamond certification was awarded to only four MSMEs.
The certification cost in grading is subsidised up to 80 per cent of the expenditure by the government and a Rs 5 lakh grant is given to interested MSMEs for improving their rating and adopting measures for moving towards zero effect.
Parameters for ZED rating
There are 50 parameters for ZED rating and additional 25 parameters for ZED Defence rating under ZED Maturity Assessment Model.
The MSMEs are provided financial assistance for the activities to be carried out for ZED certification i.e., Assessment / Rating, Additional rating for Defence angle, Gap Analysis, Handholding, Consultancy for improving the rating of MSMEs by Consultants and Re-Assessment / Re-Rating.
Allocation of fund
The fund allocated for the scheme in FY21 stood at 51.75 crore while expenditure was Rs 2.86 crore as of January 11, 2021, as per the MSME Ministry's FY21 annual report.
Eligibility/Applicability
All MSMEs having Udyam Registration and also MSMEs which are included as per executive orders issued by the office of DC, MSME consistent with MSME Act from time to time.
Nature of Assistance
Reimbursement of 80% for Micro, 60 % for Small and 50% for Medium for ZED Certification.
Conclusion
Micro, Small and Medium Enterprises are the small scale industries that are engaged in manufacturing and service providing. The MSMEs are known as the backbone of the Indian economy as it shares almost one-third of the Indian GDP. The revised process of registration has changed the classification of the MSMEs taking the investment and turnover aspects combined. The enterprises can now undergo registration via the online "Udyog Portal" and avail the benefits provided by the government.