Missile destroyer INS Mormugao commissioned into the Indian Navy
Context
INS Mormugao, an indigenously developed missile destroyer has been commissioned into the Indian Navy.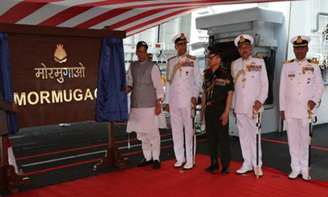 Details:
What is Project 15B?
The contract for four ships of Project 15B was signed in 2011.

This Project is a follow-on of the Kolkata class (Project 15A) destroyers commissioned in the last decade.

A total of four ships are being developed under this project.

The purpose of the Indian Navy's Project 15B is to develop stealth destroyers having maximized indigenous inputs.

They are all designed by the Indian Navy's in-house organized, Warship Design Bureau.

They are built by Mazagon Dock Shipbuilders Ltd in Mumbai.
Specifications
Dimensions:

Measuring 163m in length and 17m in breadth with a displacement of 7,400 tonnes.

The ship is propelled by four powerful gas turbines.

Equipped to fight under nuclear, biological, and chemical (NBC) warfare.
Total atmospheric control system (TACS): Protection of the crew from chemical, biological, and nuclear threats.
State-of-the-art combat management system

Max Speed:

30 knots (55 km/h)

Maximum range:

4,000 nautical miles (7,400 km)
Weaponry
Barak-8 surface-to-air missiles

BrahMos surface-to-surface cruise missiles

127 mm main gun

four AK-630 30 mm guns

533 mm torpedo launchers

RBU-6000 anti-submarine rocket launchers.
Strategic significance
High speed and manoeuvrability

Longer endurance to be part of the escort for larger vessels

More than 75% of the content is indigenous.

Anti-surface operations.

Capable of anti-aircraft and anti-submarine warfare
Verifying, please be patient.