New MoEFCC notification on fly ash includes solar, wind power plants for reclamation
Context
In a new notification, the Union Ministry of Environment, Forests and Climate Change (MoEF&CC) clarified the compliance dates for the complete utilisation of fly ash for thermal power plants (TPP) and the areas where fly ash is stored can also be reclaimed by setting up solar and wind power plants, along with plantations.
About the notification:
It stated that adding solar and wind power plants will exempt TPPs from fly ash utilisation.
It has also extended the time for utilisation to three years from a year starting April 1, 2022.
The thermal power plants are mandated to use fly ash bricks waste from Thermal Power Plants (TPPs) and reduce greenhouse emissions by reducing dependency on red bricks that use topsoil and pollute the environment.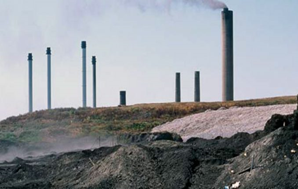 What is Fly ash?
Fly ash is a particulate material produced from the combustion of coal in thermal power plants.
Fly ash finds its potential in wastewater treatment owing to its chemical composition and its physical properties such as surface area, porosity, and particle size distribution.
Fly ash acts as a good neutralizer due to its alkaline nature.
Why it is a cause of concern?
Huge production of fly ash is leading to its disposal problems and hence methods are being studied for its use/disposal.
Many researchers have used fly ashes as adsorbents for wastewater or air pollutants control.
How it is managed by Thermal power plants?
Used for reclamation of degraded land: Fly ash (FA), a coal combustion residue of thermal power stations—has been recognized as a soil ameliorator throughout the world.

It contains essential plant micro- and macronutrients and unique physicochemical properties.
Besides, several hazardous substances, such as metal (loid) s, organic pollutants, and radioactive elements, are present in Fly Ash.
FA disposal on land leads to unwanted changes in soil systems, including contamination with hazardous pollutants.
The practical value of FA application in the land offers extensive chances in soil systems, mainly for nutrient supplementation, pH correction, and ameliorating soil physical conditions.
In general, nitrogen and organic carbon are absent in FA.
For making brick: Fly ash brick (FAB) is composed primarily of a mixture of FA and lime which gains strength via the pozzolanic reaction between the materials to produce hydration products.
FAB could also be cured in an autoclave or via steam curing to accelerate the strength gain.
Verifying, please be patient.
Our Centers
DELHI (Karol Bagh)
GS SCORE, 1B, Second Floor, Pusa Road, Karol Bagh, New Delhi - 110005 (Beside Karol Bagh Metro Station Gate No. 8)
BHUBANESWAR (Jaydev Vihar)
GS SCORE, Plot No.2298, Jaydev Vihar Square, Near HCG Day Care, BBSR - 751013
LUCKNOW (Aliganj)
GS SCORE, 2nd Floor, B-33, Sangam Chauraha, Sector H, Aliganj, Lucknow, UP - 226024