Operation Kanthuvatti
Context
Director-General of Police ordered the launch of 'Operation Kanthuvatti' across Tamil Nadu.
The suspects were investigated initiate under the Tamil Nadu Prohibition of Charging Exorbitant Interest Act, 2003.
About
What is the issue?
A constable died by suicide allegedly due to harassment by a usurious moneylender in Cuddalore district.
Investigation officers were told to launch searches at suspected locations after obtaining legal opinion and informing the jurisdictional courts to seize incriminating documents, valuables, property documents, signed blank cheques, promissory notes and securities that the victims of usury might have pledged to borrow at high rates of interest.
The moneylender made entries in the blank stamp papers to make out that person had taken ?12 lakh in loan and pressured him to settle the remaining ?6 lakh.
What is a Kanthuvatti mean?
"Kandhu vatti" a Tamil word which means an interest which will work out to an interest rate more than that fixed by the Government under section 7 of the Money-lenders Act.
This kandhu vatti has attained a draconian proportion in some parts of South India, especially in Tamil Nadu destroying many households in recent times.
Mostly this interest or principal amount provided by the moneylender is to be paid to him back on hourly or daily basis.
This causes a more vicious cycle of debt among poor and middle class earning on daily basis.
Now Kandhu vattiwhich is a ubiquitous component of the region's economy, has taken different forms and names — meter vatti, rocket vatti , computer vatti etc.
Tamil Nadu Prohibition of Charging Exorbitant Interest Act, 2003
It is an Act to prohibit the charging of exorbitant interest by any person and matters incidental thereto.
It extends to whole of the Tamil Nadu.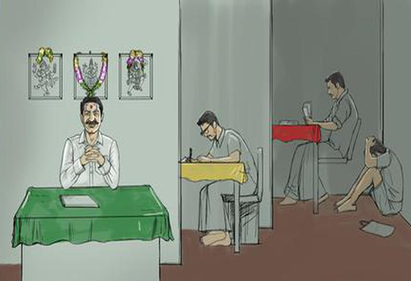 Verifying, please be patient.