Plan to install 500 GW of renewable energy capacity by 2030 to cost Rs 2.44 trillion
Context
A committee constituted by the Central Electricity Authority (CEA) has indicated that India's plan to install 500 GW (gigawatt) of renewable energy capacity by 2030 will involve an investment of at least Rs 2.44 lakh crore.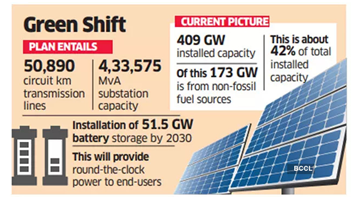 Details
The committee was tasked with setting out a plan for the transmission system required for having 500 GW of non-fossil fuel-based installed capacity by 2030.
The committee is headed by the Chairman of the Central Electricity Authority.
What is in the plan?
8,120 km (circuit kilometer) of High Voltage Direct Current Transmission corridors
25,960 ckm of 765 kV (kilovolt) AC lines

15,758 km of 400 kV lines
1052 km of 220 kV cable.

Circuit kilometers indicate the actual length of the power line needed to carry electricity.
Battery storage: Because renewable-energy generation is only available for a limited time every day, the plan envisages installing a battery storage capacity worth 51.5 GW by 2030.
Identified major upcoming non-fossil fuel generation centers:

Fatehgarh, Bhadla, and Bikaner in Rajasthan
Khavda in Gujarat
Anantapur and Kurnool in Andhra Pradesh.
The transmission plan is envisaged to be having the following characteristics:
Transparent bidding system
Open market
The expeditious dispute resolution system
Attractive destinations for investment in renewable energy
Present Status of Renewable Energy in India
The total installed capacity for renewable energy in India is 151.4 GW. The following is the breakup of the total installed capacity for Renewables:

Wind power: 40.08 GW
Solar Power: 50 GW
Biopower: 10.61 GW
Small Hydro Power: 4.83 GW
Large Hydro: 46.51 GW

Present Solar Power capacity:

45 solar parks with an aggregate capacity of 37 GW have been approved in India.
Solar Parks in Pavagada (2 GW), Kurnool (1 GW), and Bhadla-II (648 MW) are included in the top 5 operational solar parks of 7 GW capacity in the country.
The world's largest renewable energy park of 30 GW capacity solar-wind hybrid project is under installation in Gujarat.
Promoting Clean Energy and Climate Change
India has progressively decoupled economic growth from greenhouse gas emissions. For example:

Net Zero Emissions target by 2030 by Indian Railways
UJALA LED bulb campaign
National Hydrogen Mission

Major programs:

National Solar Mission (NSM)
Pradhan MantriKisanUrja Suraksha evamUtthaanMahabhiyan (PM-KUSUM)
Atal JyotiYojana (AJAY) Phase-II
Solar Parks Scheme
National Biofuel Policy

Future Goals:

Increasing renewables capacity to 500 GW by 2030
Meeting 50% of energy requirements from renewables
Reducing cumulative emissions by one billion tonnes by 2030, and
Reducing emissions intensity of India's gross domestic product (GDP) by 45% by 2030.
Verifying, please be patient.