Plan to revive maritime heritage
Context
Recently, central government has planned to sail a 21-meter "stitched ship" made using ancient techniques, to a journey from Odisha to Indonesia's Bali, reviving maritime heritage in November 2025.
About the initiative:
The project, an initiative of the Central government, along with the Navy, the Culture Ministry, and Goa-based shipbuilding company Hodi Innovations.
It is expected to take 22 months to complete.
The ship has been planned to reach its destination during the Bali Jatra festival on Kartik Purnima to the island.
Bali Yatra, a festival that commemorates the rich maritime history of Odisha is celebrated throughout the state.
In the historic city of Cuttack, a week-long event is organised starting from the day of Kartika Purnima (full moon day in the month of Kartik i.e October-November).
Historical Linkage:
The Kalinga Empire (present-day Odisha) is known for its glorious maritime history.
Due to the geographical location of Kalinga, this area saw the growth of ports as early as the 4th and the 5th century BC.
The Kalingas constructed large boats called the 'Boitas' and with the help of these, they traded with the Indonesian islands.
As a result of these influences, the Balinese also celebrate Hindu Festivals such as Shivaratri, Durga Pooja and Saraswati Pooja.
Some of the famous ports, Tamralipti, Manikpatna, Chelitalo, Palur, Pithunda allowed India to connect with other countries via the sea.
Indian women perform 'Boita Bandana'; they make boats of paper or banana leaf (sholapith) with lighted lamps inside and float them down the Mahanadi as a part of the celebrations.
Stitched Shipbuilding Method (Tankai method):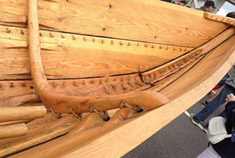 It is a 2000-year-old technique of shipbuilding, where ships are constructed by stitching wooden planks together rather than using nails, offering flexibility and durability, making them less susceptible to damage from shoals and sandbars.
Although the arrival of European ships led to a shift in shipbuilding techniques, the art of stitching ships has survived in a few coastal regions of India, primarily for small local fishing boats.
Benefits:
These ships are more durable as nails are not used.
Also these ships caused less damage due to shoals and sandbars.
For thousands of years they contributed to trade, cultural exchange, and exploration.
Significance of Project:
Reviving and Rejuvenation of Art: Project will ensure the preservation of cultural heritage for future generations.
Promote Craftsmanship: Project aims to leverage the expertise of the remaining traditional shipwrights in India and showcase their exceptional craftsmanship.
Revive Ancient Trade Links with Indian Ocean littoral countries: The project seeks to gain insights into the historical interactions across the Indian Ocean, which facilitated the flow of Indian culture, knowledge systems, traditions, technologies, and ideas, by sailing along ancient maritime routes using traditional navigational techniques.
Cultural Pride: Project will instill a sense of pride in India's rich maritime heritage among its citizens.
Verifying, please be patient.
Our Centers
DELHI (Karol Bagh)
GS SCORE, 1B, Second Floor, Pusa Road, Karol Bagh, New Delhi - 110005 (Beside Karol Bagh Metro Station Gate No. 8)
BHUBANESWAR (Jaydev Vihar)
GS SCORE, Plot No.2298, Jaydev Vihar Square, Near HCG Day Care, BBSR - 751013
LUCKNOW (Aliganj)
GS SCORE, 2nd Floor, B-33, Sangam Chauraha, Sector H, Aliganj, Lucknow, UP - 226024