Baliyatra: Celebrating Odisha's ancient links with Indonesia and Southeast Asia
Context
Bali Yatra, one of the biggest trade fairs in Odisha, was held on November 12 for eight days.
What is Bali Yatra?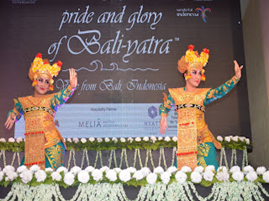 Bali Jatra (also known as Bali Yatra and Boita Banda?a) literally means 'A Voyage to Bali'.
This festival is held in Odisha, in the city of Cuttack at Gadagadia Ghata of the Mahanadi River.
Organized every year to commemorate the 2,000-year-old maritime and cultural links between ancient Kalinga (today's Odisha) and Bali and other South and Southeast Asian regions like Java, Sumatra, Borneo, Burma (Myanmar), and Ceylon (Sri Lanka).
The festival is celebrated from the day of Kartika Purnima (full moon night in the month of Kartik) can according to the Odia Calendar, which comes around the end of October and November.
People of Odisha gather near the banks of Mahanadi, Brahmani River, other river banks, and ponds to float miniature toy boats, made of colored paper as a symbolic gesture of their ancestors' voyage.
The festival is similar to the 'Masakapan Ke Tukad' festival of Bali, the 'Loi Krathong' festival of Thailand (ritualistic floating of model boats), the 'Bon Om Touk' Water Festival of Cambodia, and the 'That Luang' Festival of Laos all of which involve around the same time of the year.
Odisha and Bali connection:
Odhisha was known as Kalinga in ancient times and was commanded by a very high position in the maritime activities of India in the past. The heroic and ever-agile merchants of the ancient Kalinga kingdom were making daring voyages to different far-off lands of the world.
Do you know?
The district administration allots stalls to traders through an auction, and the fair is estimated to see business worth more than Rs.100 crore over its nine days.
Odisha played a significant role in the evolution of Hindu culture in Bali.
A section of Brahmanas in the Karangasem district of Bali styled themselves as Brahmana - Bouddha – Kalinga.
It seems very likely that their ancestors were immigrants from Kalinga.

Some words and usages concerning vocabulary, crafts, and religious practices, forms of worship, food habits, and manners prevalent in Bali are Odia in origin.

There are linguistic parallels between Odisha and the island of Bali.
Both the Balinese and the Odias' food habits seem to have some common likes and dislikes.