Connection of Indus Valley Civilization to Bengal
Context
Researchers have recently unearthed many links which shows that Chandraketugarh, a 2,500-year-old site in West Bengal, was linked to international trade in the mysterious Indus Valley Civilisation.
About
About the King Chandraketu and Chandraketugarh
Recent discoveries suggest that Sandrocottus was the name Megasthenes, used for King Chandraketu.
Chandraketugarh (Fort of Chandraketu), often called "the city that never existed".
It was once reportedly an important coastal hub in international trade, between 4th Century BCE and 12th Century CE.
The archaeological site is over 2,500 years old and is located near the Bidyadhari River, which is around 35 kilometers northeast of Kolkata, in North 24 Parganas, near Berachampa and the Harua Road railhead.
Indus Valley Civilization, Mauryan and Gupta connection with Kolkata
Gupta Connection: Post-Gupta temple complex shows the existence of a flourishing ancient civilizationthat possibly spanned six periods from the pre-Maurya to the Pala dynasty.
The mound discovered in Chandraketugarh had the names of Khana and Mihir (another name by which Varahamihira was known).
Varahamihira was believed to be part of emperor Vikramaditya or Chandragupta II's famed navaratnasabha.
Mauryan connection: Discoveries ranging from the Mauryan to the post-Gupta periodsuggest the link.
Findings included large-sized pots and chalcedony beads possibly dating back to Mauryan times.
Semi-precious stones, copper coins, terracotta figurines, cosmetic sticks of bone and ivory, and a steatite casket.
Indus Valley Civilization Connect: Some of the terracotta items date backto the Indus Valley Civilisation.
A wide variety of figurines, animals, toy-carts, erotic depictions, narrative plaques depicting sceneries of harvest, aquatic motifs, among others, have been unearthed.
The female figurines are adorned with intricate headdresses, earrings, pendants, and other accessories that show the stellar craftsmanship of the civilization.
A pair of terracotta rattles in the form of Indian male nature spirits, called yakshas and (right) Coins unearthed at Chandraketu.
Indus Valley Civilisation (IVC)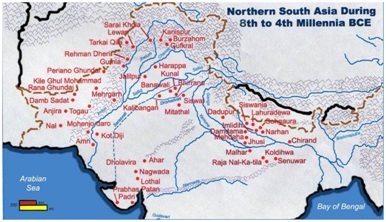 The Indus Valley Civilisation (IVC) was a Bronze Age civilization in the northwestern regions of South Asia.
It lasted from 3300 BCE to 1300 BCE, and in its mature form from 2600 BCE to 1900 BCE.
Together with ancient Egypt and Mesopotamia, it was one of three early civilizations of the Near East and South Asia.
Its sites spanning an area stretching from northeast Afghanistan, through much of Pakistan, and into western and northwestern India.
It flourished in the basins of the Indus River.
The Indus civilization is also known as the HarappanCivilisation, after its type site, Harappa, the first of its sites to be excavated early in the 20th century.