Dholavira, the 40th UNESCO's World heritage site of India
Context
Dholavira, the archaeological site of a Harappan-era city has received the UNESCO world heritage site tag. Dholavira became the fourth site from Gujarat and 40th site from India to make to the list. It is the first site of the Indus Valley Civilisation (IVC) in India to get recognition.
About
Important facts about Dholavira
The Indus Valley Civilisation (IVC)city is located on a hillock near the present-day Dholavira village in the Kutch district.
Dholavira is located on Khadir Island.
The site was discovered in 1968 by archaeologist JagatPati Joshi and was excavated between 1990 and 2005 under the supervision of archaeologist Ravindra Singh Bisht.
After Mohen-jo-Daro, Ganweriwala, and Harappa in Pakistan and Rakhigarhi in Haryana of India, Dholavira is the fifth largest metropolis of IVC.
The ancient city was a commercial and manufacturing hub for about 1,500 years.

What are the distinct features of this ancient site?
The site has a fortified citadel, a middle town, and a lower town.
The walls of the city are made of sandstone or limestone instead of mud bricks like in many other Harappan sites.
The city also has a cascading series of water reservoirs, outer fortification, and two multi-purpose grounds, one for festivities and another used as a marketplace.
It also had nine gates with unique designs, and funerary architecture, which featured tumulus hemispherical structures like Buddhist Stupas.
Like the graves at other IVC sites, no mortal remains of humans are discovered at Dholavira.
Memorials that contain no bones or ashes but contain offerings of precious stones, etc. add a new dimension.
People in Dholavira knew metallurgy.
The traders of Dholavira used to source copper ore from Rajasthan, Oman, and UAE and export finished products.
The beads specific to the Harappan workmanship have also been found in the royal graves of Mesopotamia that indicatesDholavira used to trade with the Mesopotamians.

Other Harappan sites in Gujarat
Lothal, in Saragwala village on the bank of Sabarmati
Rangpur on the bank of Bhadar river in Surendranagar district
Rojdi in Rajkot district
Prabhas near Veraval in GirSomnath district
Lakhabaval in Jamnagar
Deshalpar in Bhujtaluka of Kutch
Indus Valley Civilisation (IVC)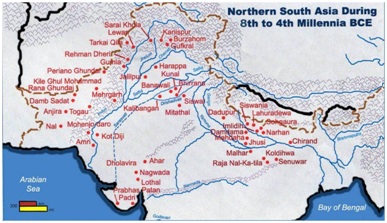 The Indus Valley Civilisation (IVC) was a Bronze Age civilization in the northwestern regions of South Asia.
It lasted from 3300 BCE to 1300 BCE, and in its mature form from 2600 BCE to 1900 BCE.
Together with ancient Egypt and Mesopotamia, it was one of three early civilizations of the Near East and South Asia.
Its sites spanning an area stretching from northeast Afghanistan, through much of Pakistan, and into western and northwestern India.
It flourished in the basins of the Indus River.
The Indus civilization is also known as the HarappanCivilisation, after its type site, Harappa, the first of its sites to be excavated early in the 20th century