Historic 'Sengol' to be installed in new Parliament building
Context
The current Indian Prime Minister plans to install the 'Sengol,' a historical sceptre from Tamil Nadu, in the new Parliament building.
Key Highlights:
The 'Sengol' was received by Independent India's first Prime Minister, Jawaharlal Nehru, from Lord Mountbatten to symbolically represent the transfer of power from the British and was later kept in a museum in Allahabad.
When C. Rajagopalachari suggested a Chola-era ceremony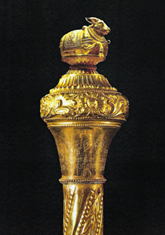 Symbolise the transfer of power from British to Indian hands: Nehru then consulted C. Rajagopalachari, also known as Rajaji, who went on to become India's final Viceroy.
Rajaji identified the Chola paradigm, in which power was transferred from one monarch to another after it was sanctified and blessed by a high ruler.
The'sengol' or sceptre was passed from one monarch to his successor as a symbol.
Vummidi Bangaru Chetty, a well-known goldsmith in the Madras Presidency, created a golden sceptre.
Vummidi Ethirajulu (96) and Vummidi Sudhakar (88), the sengol's creators, live in Chennai.
The 'handing over' ceremony that happened on Independence Day eve
On August 14, 1947, Jawaharlal Nehru received the Sengol from the Adheenams of the Thiruvaduthurai Adheenam (Mutt) in Tamil Nadu.
The ceremony was conducted as per Tamil traditions and the sengol was handed over to Nehru at his house.
The incident was recently recalled in a policy note prepared by the Hindu Religious and Charitable Endowment Board, Government of Tamil Nadu.
The transfer of power is not merely a handshake or signing of a document, but must remain connected with local traditions.
All 20 Adheenams invited for new Parliament building inauguration: The historic plan has been prepared in consultation with the presidents of Adheenam, with all 20 presidents present.

Vummidi Bangaru Chetty ji, associated with its creation, will also participate in the ceremony.
Sri La Sri Ambalavana Desika Paramacharya Swamigal will hand over the sceptre to Mr. PM on the day of the inauguration of the new Parliament building.