IAF to increase Sukhois armed with BrahMos supersonic cruise missile
Context
The Indian Air Force (IAF) is set to increase the number of Sukhoi 30 (SU-30) MKI fighters integrated with BrahMos supersonic missile, which now has a range of over 500 kilometres.
About
About BrahMos Missile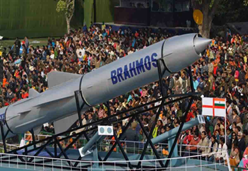 The BrahMos is a ramjet supersonic cruise missile of a short-range developed by the Defence Research and Development Organisation (DRDO) and the Russian Federation's NPO Mashinostroyeniya (NPOM).
It is named after two major rivers of India and Russia: Brahmaputra and Moskva.
The use of BrahMos missiles forland as well as anti-ship attacks.
They can be launched from land, air and sea, and all three variants are in service in the Indian armed forces.
It is a two-stage (solid propellant engine in the first stage and liquid ramjet in second) missile.
It operates on the "Fire and Forgets" principle i.e. it does not require further guidance after launch.
BrahMos missiles are manufactured in India under a joint venture that was formed in 1998 between India's Defence Research and Development Organisation and Russia's NPO Mashinostroyeniya.
The Sukhoi 30 (SU-30) MKI fighter Jets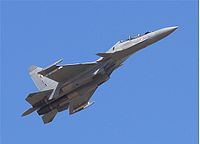 The Sukhoi Su-30MKI is a twinjet multirole air superiority fighterdeveloped by Russia's Sukhoi and built under licence by India's Hindustan Aeronautics Limited (HAL) for the Indian Air Force (IAF).
A variant of the Sukhoi Su-30, it is a heavy, all-weather, long-range fighter.
The first Russian-made Su-30MKI variant was accepted into the Indian Air Force in 2002, while the first Su-30MKI assembled in India entered service with the IAF in 2004.
The IAF has nearly 260 Su-30MKIs in inventory as of January 2020.
The Su-30MKI is expected to form the backbone of the Indian Air Force's fighter fleet to 2020 and beyond.
The IAF currently has 40 SU-30 MKI with BrahMos, the only supersonic cruise missile in the world.
Significance of collaboration of both
The range of the BrahMos missile was 290 km earlier; it has been extended to over 500 km.
The land-launched BrahMos has a range of about 400 kilometres and work is also to increase its range to 800 and 1,500-km.
Given the Su-30s' maritime strike capability, the IAF had made this move with an eye on increasing Chinese naval presence in the Indian Ocean Region.