India plans to showcase Nagaland's Hornbill Festival at G20
Context
India plans to showcase Nagaland's famous Hornbill Festival when it assumes the G20 presidency on December 1.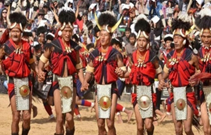 About
The Hornbill Festival:
The Hornbill Festival is celebrated in Nagalandto encourage inter-tribal interaction.
The festival is celebrated annuallyin the first week of December to preserve, protect and revive the uniqueness and richness of the Naga heritage.
The festival is considered the"Festival of Festivals" in Nagaland.
About the Hornbill Species:
They are a family of bird found in tropical and subtropical Africa, Asia and Melanesia.
They are characterized by a long, down-curved bill which is frequently brightly coloured and sometimes has a casque on the upper mandible.
They are the only birds in which the first and second neck vertebrae (the atlas and axis respectively) are fused together.
The family is omnivorous, feeding on fruit and small animals.
They are monogamous breeders nesting in natural cavities in trees and sometimes cliffs.
Protection Status:

Threatened in India
Extinct in South Asia
IUCN Status: Vulnerable