India's first National Centre of Excellence for Green Port & Shipping (NCoEGPS)
Context
The Union Minister of Ports, Shipping & Waterways (MoPSW) launched the India's first Centre of Excellence for Green Port & Shipping to provide Green solutions to transform Ports & Shipping sector in India.
About
The National Centre of Excellence for Green Port & Shipping (NCoEGPS):
Aim: To develop a regulatory framework and alternate technology adoption road map for Green Shipping to foster carbon neutrality and circular economy (CE) in shipping sector in India.
Circular Economy: A circular economy is a model of production and consumption, which involves sharing, leasing, reusing, repairing, refurbishing and recycling existing materials and products as long as possible.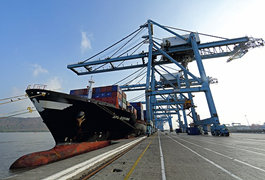 NCoEGPS will act as a technological arm of MoPSW for providing the needed support on Policy, Research and Cooperation on Green Shipping areas for Ports, DG Shipping, Corporate Social Lendings and other institutions.
The Center will be a host of several technological arms to support the port and shipping sector and will provide solutions to a variety of problems being faced in the industry through scientific research.
It will also carry out valuable education, applied research and technology transfer in maritime transportation at the local, regional, national and International levels.
It will focus on the following areas:
Energy Management - Energy management tools, waste energy recovery systems
Emission Management- Alternate, clean Energy/Fuel, emission control & monitoring.
Sustainable Maritime Operations – novel technologies and approaches
The specific objectives of the formation of NCoEGPS are defined as follows -
To empower 'Make in India' in Port, Coastal and Inland water transport, and Engineering by developing state of art technologies and application products.
To enable fast-track innovations in order to provide most appropriate solutions to various challenges in these sectors.
To create a pool of competent manpower to the industry equipped with state of the art theoretical and practical knowhow.
Self-sufficiency in providing short term solutions through scientific studies technology development technical arm in identifying and analysing complex problems and solving issues
Project Implementation:
The Energy and Resources Institute (TERI) is the knowledge and implementation partner for this project.
The Deendayal Port Authority Kandla, Paradip Port Authority, Paradip, V.O Chidambaranar Port Authority, Thoothukudi and Cochin Shipyard Limited, Kochi has all extended their support to the ministry to set up the centre.
The ports have also aimed to reduce Carbon emissions per ton of cargo handled by 30% by 2030.
India will also be implementing IMO energy efficiency requirements for existing ships and carbon intensity requirements on all its vessels whether coastal or international in order to help achieve IMO GHG reduction targets.
The NCoEGPS will be working under the framework of the Sagarmala programme of the MoPSW.
Significance:
Help to achieve Inclusive growth
Fulfilling Paris accord: It will also help to meet (and exceed) obligations under the Paris Accord through electrification of process.
Improve Training and Capacity building
Other Government Initiatives:
Maritime Vision Document 2030: It is a 10 Year blueprint on India's vision of a sustainable Maritime sector and vibrant blue economy.
India's Nationally Determined Contributions (NDC) under the Paris Agreement for the Period 2021-2030 includes reducing the emissions intensity of its GDP by 33 to 35 per cent by 2030.