LOCATION IN NEWS
Black Sea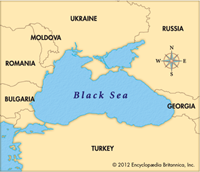 Russia opens fire on cargo vessel in Black Sea.
About Black Sea
Black Sea, an inland sea between Eastern Europe and Western Asia.
It is bounded by the Eastern European Plain to the north, the Balkans to the west, the Caucasus Mountains to the east, and the Anatolian Peninsula (or Asia Minor, the largest part of Turkey) to the south.
There are six countries with coastlines on the Black Sea (clockwise), Ukraine, Russia, Georgia, Turkey (Türkiye), Bulgaria, and Romania.
Sulina Channel

A new trade route to support black grain initiative, has been identified i.e. the Sulina Channel – a 63 km long distributary of the Danube, connecting major Ukrainian ports on the river to the Black Sea, lying completely within the borders of Romania, a NATO member.
About:
Location: Sulina is situated at the mouth of the Danube, 148km East of Constanta.
The Danube is the second-longest river in Europe, after the Volga in Russia.
It flows through much of Central and Southeastern Europe.
General overview: Depths in the canal range from 10m to 14m, permanent dredging allows vessels of max draft 7.32m to berth.
Location near Black sea:
The Danube–Black Sea Canal (Romanian: Canalul Dun?re–Marea Neagr?) is a navigable canal in Romania, which runs from Cernavod? on the Danube river, via two branches, to Constan?a and N?vodari on the Black Sea.