'Novichok nerve agent'
The German government says Russia's opposition leader, Alexei Navalny, has been poisoned with a Novichok nerve agent.
Context
The German government says Russia's opposition leader, Alexei Navalny, has been poisoned with a Novichok nerve agent.
About
The name Novichok (A-230) means "newcomer" in Russian, and applies to a group of advanced nerve agents developed by the Soviet Union in the 1970s and 1980s.

They were known as fourth-generation chemical weapons and were developed under a Soviet programme codenamed Foliant.
Novichok's existence was revealed by chemist Dr Vil Mirzayanov in the 1990s, via Russian media.

He later defected to the US, where he published the chemical formula in his book, State Secrets.
How is it used?
Novichok agents are dispersed as an ultra-fine powder rather than a gas or vapour.
They can be inhaled, ingested, or absorbed through the skin.
Variants of Novichok
Some variants of Novichok are thought to be five to eight times more toxic than the VX nerve agent.
While some Novichok agents are liquids, others are thought to exist in solid form. This means they could be dispersed as an ultra-fine powder.
Some of the agents are also reported to be "binary weapons", meaning the nerve agent is typically stored as two less toxic chemical ingredients that are easier to transport, handle and store.
When these are mixed, they react to produce the active toxic agent.
Similar symptoms to those of other nerve agents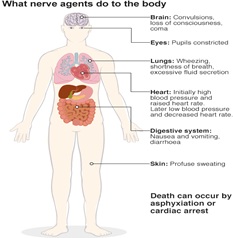 Novichok agents have similar effects to other nerve agents - they act by blocking messages from the nerves to the muscles, causing a collapse of many bodily functions.
The first sign to look out for was miosis, the excessive constriction of the pupils.
A larger dose could cause convulsions and interrupted breathing.
Continuous convulsions and vomiting, and then a fatal outcome.
Is there an antidote?
All nerve agents have an antidote in atropine, but it needs to be administered as soon as possible.
A common problem is that it can take time to diagnose that a nerve agent has been used.
Who controls the world's most toxic chemicals?
The work of the Organisation for the Prohibition of Chemical Weapons (OPCW) is carried out as part of an international control regime that governs what is, or is not, permissible as far as very toxic chemicals are concerned.
This was established by the 1997 Chemical Weapons Convention(CWC), to which 192 countries are signed up members.

Only four countries are outside the CWC - North Korea, Israel, Egypt and South Sudan, which has begun the process of signing. They are still bound by the treaty's provisions, under international law.

The CWC's operational arm, the Hague-based inspectors of the OPCW, have overseen the destruction of nearly 97% of the world's declared stockpiles of chemical weapons.
Novichoks were added to the Chemical Weapons Convention's list of controlled substances, in one of the first major changes to the treaty since it was agreed in the 1990s.