Significance of Tamil Month 'Margazhi'
Context
The Margazhi masam is the ninth month in traditional Tamil Calendar which is meant to be an auspicious month for worshippers of both Shiva and Vishnu.
About
The Margazhi Masam:
This month according to the Tamil Calendar falls from 16 December 2022 to 14 January 2023.
The month of Margazhi is special to both Vaishnavites and Saivites.
Andal's Thiruppavai is recited in Vishnu temples in Margazhi. During this month, in the Arudra star, that Lord Nataraja showed his divine dance to sages Vyagrapada and Patanjali.
Thiruvempavai and Thirupalliezhuchi are recited by Saivites in Margazhi. Mancikavachagar composed Thiruvempavai in Thiruvannamalai.
Five temples are of significance to each of the five elements. Of these, the temple at Thiruvannamalai is for
The auspicious month of Margasheersha, also known as Margazhi in Tamil, is considered auspicious for putting efforts into one's own spiritual growth- be it Sadhana, Vrata, Bhajan, or Pooja - for the Upasakas of Shiva, Shakti, Vishnu as well as others.
Celebrations in the Masam:
The kolam is drawn to welcome Lakshmi, the Goddess of Prosperity, into the home and drives away the evil spirits.
What is Kolam? A kolam or muggu is a geometrical line drawing composed of straight lines, curves, and loops, drawn around a grid pattern of dots. In Tamil Nadu and Sri Lanka, it is widely practiced by female family members in front of their house entrances.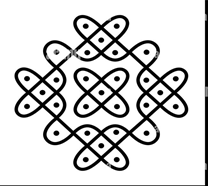 Early morning pujas are to be conducted in every household during the month.
Pan-India significance:
Margahzi or Margali Masam is a corresponding month to Margashira Masam and Poush month of other Hindu calendars. It also corresponds to the Bengali month of Agrahayan and Poush mash.
According to the Malayalam calendar, it coincides with Dhanur Masam.
Hindu calendar vs. Gregorian calendar

The ancient Hindu calendar conceptual design is also found in the Hebrew calendar, the Chinese calendar, and the Babylonian calendar, but different from the Gregorian calendar.
Unlike the Gregorian calendar which adds additional days to the month to adjust for the mismatch between twelve lunar cycles (354 lunar days) and nearly 365 solar days, the Hindu calendar maintains the integrity of the lunar month, but inserts an extra full month by complex rules, once every 32–33 months, to ensure that the festivals and crop-related rituals fall in the appropriate season.

Months of the Indian Civil Calendar

Days

Correlation of Indian/Gregorian

1. Caitra

30*

Caitra 1

March 22*

2. Vaisakha

31

Vaisakha 1

April 21

3. Jyaistha

31

Jyaistha 1

May 22

4. Asadha

31

Asadha 1

June 22

5. Sravana

31

Sravana 1

July 23

6. Bhadra

31

Bhadra 1

August 23

7. Asvina

30

Asvina 1

September 23

8. Kartika

30

Kartika 1

October 23

9. Agrahayana

30

Agrahayana 1

November 22

10. Pausa

30

Pausa 1

December 22

11. Magha

30

Magha 1

January 21

12. Phalguna

30

Phalguna 1

February 20