RBI Annual Report: India's growth momentum
Context
According to the Reserve Bank of India Annual Report 2022-23, the Indian economy will be supported by effective macroeconomic policies, lower commodity prices, and a strong banking sector, among other things.
Key highlights of the RBI's Annual Report 2022-23: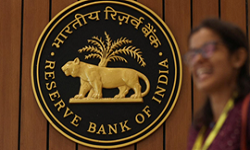 India's growth momentum is likely to be sustained in 2023-24 in an atmosphere of easing inflationary pressures.
Economy Dependency: The economy will be supported by sound macroeconomic policies, softer commodity prices, a robust financial sector, continued fiscal policy thrust on quality of government expenditure, and new growth opportunities stemming from global realignment of supply chains.
Growth Rate: The slowing global growth, protracted geopolitical tensions and a possible upsurge in financial market volatility following new stress events in the global financial system could pose downside risks to growth. It is important, therefore, to sustain structural reforms to improve India's medium-term growth potential.
Domestic Economy: While emphasising that domestic economic activity does face challenges from an uninspiring global outlook going forward, resilient domestic macroeconomic and financial conditions, expected dividends from past reforms and new growth opportunities from global geo-economic shifts place India in an advantageous position.
Inflation: The risks to inflation have moderated with downward corrections in global commodity and food prices and easing of the pass-through from high input cost pressures of last year.
Repo Rate: The cumulative increase in policy repo rate by 250 bps last year would steer the disinflationary process, along with supply side measures to address transient demand-supply mismatch due to food and energy shocks.
Monetary Policy: It remains focused on withdrawal of accommodation to ensure that inflation progressively aligns with the target, while supporting growth.
Global Supply Chains: As per the Annual Report the realignment of global supply chains, transition to green energy and ongoing technological advancements provide a congenial environment for a pick-up in investment activity and raising productivity.
Balance sheets of Corporates and Banks: Robust balance sheets of corporates and banks, coupled with high capacity utilisation, would aid in strengthening the momentum in private investment.
Household Demand: Burgeoning credit growth, especially housing and personal loans, reflects steady domestic household demand. This is also mirrored in several high frequency indicators of rural and urban demand.
Agriculture Production: Robust agriculture production buoyed by expectation of a bountiful rabi harvest and resilience in allied sector activity are also brightening the outlook for rural demand.
Manufacturing: Traction in construction activity is likely to be sustained as reflected in steady expansion in its proximate indicators: steel consumption and cement production.
Transportation: Port cargo traffic and railway freight traffic movements also point to industrial activity picking up amidst gradual easing of input cost pressures.
Agriculture and allied activities: They were resilient in 2022-23, with gross value added (GVA) registering a growth of 3.3%.
Industrial Sector: The manufacturing activity withstood global spillovers, while electricity generation exhibited robust growth, and mining recorded steady activity. Sustained momentum was seen in construction activity, while infrastructure and capital goods production benefitted from the government-led investment in infrastructure.
Estimated Growth: The Indian economy is expected to have recorded a growth of 7.0% in real GDP in 2022-23.
Verifying, please be patient.
Our Centers
DELHI (Karol Bagh)
GS SCORE, 1B, Second Floor, Pusa Road, Karol Bagh, New Delhi - 110005 (Beside Karol Bagh Metro Station Gate No. 8)
BHUBANESWAR (Jaydev Vihar)
GS SCORE, Plot No.2298, Jaydev Vihar Square, Near HCG Day Care, BBSR - 751013
LUCKNOW (Aliganj)
GS SCORE, 2nd Floor, B-33, Sangam Chauraha, Sector H, Aliganj, Lucknow, UP - 226024