SC asks to file counter-affidavit to plea to protect Western Ghats
Context
The Supreme Court directed the Environment Ministry to file its counter-affidavit to a petition filed by a minor, seeking judicial intervention to protect the Western Ghats from destruction.
About Western Ghats
The Western Ghats, also known as the Sahyadri mountain range, is a mountain range that covers an area of 160,000 km2

The entire range of hills from Tapi to Kanyakumari is known as the Western Ghats.

It is parallel to the western coast of the Indian peninsula, traversing the states of Gujarat, Maharashtra, Goa, Karnataka, Kerala and Tamil Nadu.
The three main rivers of South India viz. Krishna, Godavari and Kaveri originate from the Western Ghats.
It is a UNESCO World Heritage Site and is one of the 36 biodiversity hotspots in the world.
It is sometimes called the Great Escarpment of India.
According to UNESCO, the Western Ghats are older than the Himalayas.
Significance of Western Ghats:

Diversity of ecosystem:The Western Ghats include a diversity of ecosystems ranging from tropical wet evergreen forests to montane grasslands containing numerous medicinal plants and important genetic resources such as the wild relatives of grains, fruit and spices. They also include the unique shola ecosystem which consists of montane grasslands interspersed with evergreen forest patches.
A significant water source: Approximately 245 million people live in the peninsular Indian states that receive most of their water supply from rivers originating in the Western Ghats.
Sustaining the livelihood:The soil and water of this region sustain the livelihoods of millions of people.
Influencer of weather pattern:They influence the Indian monsoon weather patterns that mediate the warm tropical climate of the region, presenting one of the best examples of the tropical monsoon system on the planet.
Natural barrier:They act as a key barrier, intercepting the rain-laden monsoon winds that sweep in from the south-west during late summer.

On the eastern side also there is another region called the Eastern Ghats.
| | |
| --- | --- |
| Western | Eastern |
| Almost Continuous hills | Discontinuous hills (because of River deltas) |
| Height: 1500 to 2000 m | lower: 500-700 m |
| Highest peak: Anai Mudi (Kerala) | Jindhagada peak (Andhra Pradesh) |
| The forest is Tropical and Semi Evergreen | Moist Deciduous or Monsoon forest |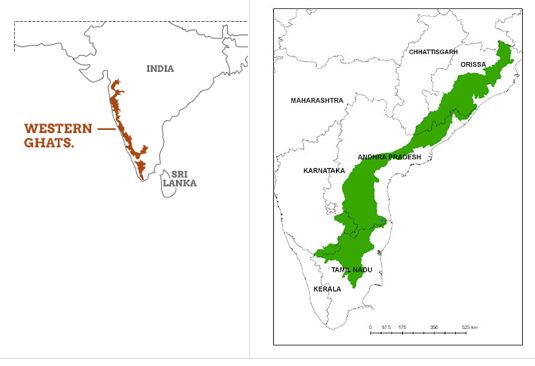 Threats
The natural ecosystems of this mountain range are subject to a number of threats:
Exploitative livestock grazing
Illegal hunting
Human-wildlife Conflict
Extraction of fuelwood, fodder and other forest products
Plantations of cash crops (destroying the natural forests)

Verifying, please be patient.