Supreme Court directed for Food distributions to Migrants
Context
In order to ensure food security for all, SC has directed the Centre and the States to supply door-to-door food grains to migrants.
About
Key-points made by the SC
The Supreme Court was hearing a matter relating to migrant labourers. It highlighted the following points:
A large number of migrant workers are without ration cards.
It was pointed out by the petitioners that the central government had failed to undertake any exercise to re-determine coverage under the National Food Security Act (NFSA) and as a result, more than 10 crore people who should have been issued ration cards were left out of the purview of the food security net.
National Food Security Act
The National Food Security Act (NFSA) 2013 aims to ensure that everyone everywhere has enough good-quality food to lead a healthy life.
The Act is being implemented by all the States and the Union Territories.
Up to 75% of the rural population, as well as 50% of the urban population, are legally entitled to receive subsidised food grains through the Targeted Public Distribution System, according to the Act.
Beneficiaries:

Priority Households (PHH) and Antyodaya Anna Yojana (AAY) households, each of which is entitled to 35 kg of food grains each month (5 kg per person per month) are included.
Under this, Wheat costs Rs. 2 per kg, rice costs Rs. 3 per kg and coarse grains cost Rs. 1 per kg.

Features:
The Act is in line with Goal Two of the Sustainable Development Goals set by the United Nations General Assembly.

Goal 2 seeks sustainable solutions to end hunger in all its forms by 2030 and to achieve food security.

Schemes such as the Mid-Day Meal Scheme (MDMS), the Public Distribution System (PDS), and the Integrated Child Development Services (ICDS) are included under the Act.
No citizen should die of hunger and said that it was most concerning that there were deaths due to hunger.
Migrants and other workers are the backbone of the country and they must be provided rations at subsidized rates.
The sad reality
The court further observed that in villages and in marginalised communities people tie a tight cloth around their stomachs to suppress their hunger pangs.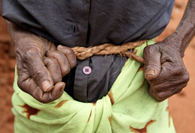 What are the issues faced by migrant workers?
Major issues: Below are the major challenges faced by the migrant workers in India (especially the unorganized workers)
low wages and economic hardship
physical and sexual exploitation
Lack of safety at workplace
Food insecurity
Multiple vulnerabilities
Inadequate healthcare
No job security
Constitutional Provisions regarding food security
Food security is the basic right of every individual and has also covered under the constitution under following heads:
Article 21: 'Right to food' was a fundamental right under Article 21 of the Constitution.
Preamble of the Constitution: Socialism is one of the signature tunes of the Constitution.

The concept of socialism empowers the Government to adopt measures to diminish the difference between the rich and the poor.
Such measures will end poverty in India to a large extent.
The reduction of poverty shall lead to a reduction in hunger and malnourishment and help realization of the right to food of the people.

Part IV: The principle of socialism is also embodied in the various provisions of the Part IV in the Constitution.
Supreme Court's stand
As SC has said that data on how many workers own a ration card need to be collected from e-shram portal, and cardless workers should be provided rations through National Food Security Act
Other Government Interventions for Migrants
Pradhan Mantri Garib Kalyan Yojana: After the lockdown, Pradhan Mantri Garib Kalyan Yojana with a financial package of Rs. 1.7 lakh crore was launched to help poor, needy and unorganised sector workers of the country.
PM SVANidhi Scheme: PM SVANidhi Scheme was launched to facilitate collateral free working capital loan upto Rs.10,000/- of one-year tenure, to approximately, 50 lakh street vendors, to resume their businesses.
Pradhan Mantri Garib Kalyan Rojgar Abhiyan: In order to facilitate employment of migrant workers who have gone back to their home state, Pradhan Mantri Garib Kalyan Rojgar Abhiyan was initiated in 116 districts in Mission Mode.
State migrant cell: Migrant workers' Cell is being created to prepare a database of migrant workers in states with mapping.
eShram portal: It is a national database created to register the unorganised workers in the country, including the migrant workers.
National policy on migrant workers: NITI Aayog has been mandated to prepare a draft national policy on migrant workers to reimagine labour-capital relations while integrating the migrantworkers within the formal workforce.
National Career Service portal: The portal has been created which is a one-stop solution that provides a wide array of employment and career-related services to the citizens of India.
Verifying, please be patient.