The 50th Chief Justice of India
Context
Justice D.Y Chandrachud was sworn in as the 50th Chief Justice of India (CJI) by President Droupadi Murmu at a brief ceremony at the Rashtrapati Bhavan in New Delhi.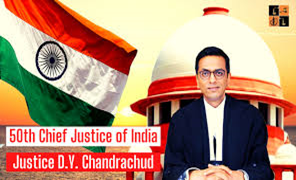 About
About D.Y Chandrachud:
Dhananjaya Yeshwant Chandrachud(born 11 November 1959) is an Indian Judge who is now the 50th Chief Justice of India.
He will serve as Chief Justice till November 10, 2024.
He was one of the Seniormost Judges of the Apex Court
He is a former ex-officio executive chairman of the National Legal Services Authority.
In addition, he is a former Chief Justice of the Allahabad High Court and a former judge of the Bombay High Court.
His father, Yeshwant Vishnu Chandrachud, is the longest-serving Chief Justice of India (from 1978-85) in history.
His Contributions:
He wrote the lead judgment for a nine-judge Constitution Bench in the Justice S. Puttaswamy vs Union of India case, in which it was unanimously held that the right to privacy was a Fundamental Right.
Recently, a Bench headed by him expanded the scope of the Medical Termination of Pregnancy Act to include unmarried women for abortion between 20 and 24 weeks of pregnancy.
He also delivered path-breaking judgments on decriminalizing same-sex relations, after it partially struck down Section 377 of the Indian Penal Code.
He has been part of Benches that ruled on the validity of the Aadhaar scheme and the Sabarimala issue.
He also paved the way for the permanent commissioning of women officers in the armed forces.
The procedure of appointment of Chief justice of India:
While the Constitution of India does not mention any process for appointing the CJI, the naming of the successor relies on convention.
Article 124 (1) of the Constitution merely says, "there shall be a Supreme Court of India consisting of a Chief Justice of India." It also says that the President shall appoint every Judge of the Supreme Court.
As per convention, the outgoing CJI recommends his successor, strictly based on seniority.
The Union Law Minister then forwards the recommendation to the Prime Minister who, in turn, advises the President on the matter of appointment.
Verifying, please be patient.
Our Centers
DELHI (Karol Bagh)
GS SCORE, 1B, Second Floor, Pusa Road, Karol Bagh, New Delhi - 110005 (Beside Karol Bagh Metro Station Gate No. 8)
BHUBANESWAR (Jaydev Vihar)
GS SCORE, Plot No.2298, Jaydev Vihar Square, Near HCG Day Care, BBSR - 751013
LUCKNOW (Aliganj)
GS SCORE, 2nd Floor, B-33, Sangam Chauraha, Sector H, Aliganj, Lucknow, UP - 226024