The Crisis in Ukraine's Donbass Region
Context
President Vladimir Putin recently told his Security Council that Russia should consider recognising the independence of the self-proclaimed Donetsk People's Republic and the Lugansk People's Republic in Donbass as independent.
About
About Donbass region: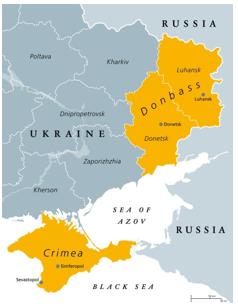 Location:

The Donetsk and Luhansk regions collectively known as the Donbas are in eastern Ukraine, near the border with Russia.

The region comprises both Kyiv-controlled parts as well as separatist-controlled areas.

Its main industries are coal mining and steel production.

The geographical location of the Donbas facilitated industrial growth:

Population:

Most of the 3.6 million people living in the Donetsk and Luhansk regions speak Russian, a result of a migration of Russian workers to the regions after World War II, during the Soviet era.
About the crisis:
The Donbass region, comprising the Donetsk and Luhansk oblasts of Ukraine, has been at the centre of the conflict since March 2014 when Moscow invaded and annexed the Crimean Peninsula.

In April 2014, pro-Russia rebels began seizing territory (with Russia supporting them through hybrid warfare) in Eastern Ukraine and in May 2014, the rebels in the Donetsk and Luhansk regions held a referendum to declare independence from Ukraine.

Since then, these predominantly Russian speaking regions (more than 70% speak Russian) within Ukraine have been witnessing shelling and skirmishes between the rebels and Ukrainian forces.
About Minsk agreements:
There are two Minsk agreements, Minsk 1 and Minsk 2.

Minsk 1

was written in September 2014 by the Trilateral Contact Group on Ukraine, i.e. Ukraine, Russia, and the OSCE with mediation by France and Germany.

Under Minsk 1, Ukraine and the Russia-backed rebels agreed on a 12-point ceasefire deal, which due to violations by both sides, did not last long.

In February 2015, representatives of Russia, Ukraine, the OSCE and the leaders of Donetsk and Luhansk signed a 13-point agreement, now known as the Minsk 2 accord.

Russia believes that the agreement asks Ukraine to grant the Russia-backed rebels in Donbas comprehensive autonomy and representation in the central Government.

Only when this is done will Russia hand over control of the Russia-Ukraine border to Ukraine.

Ukraine, on the other hand, feels that Minsk 2 allows it to first re-establish control over Donbas, then give it control of the Russia-Ukraine border, then have elections in the Donbas, and a limited devolution of power to the rebels.

Ukraine believes the accord supports its sovereignty fully while Russia believes it only gives Ukraine limited sovereignty.

Thus, the Minsk 2 agreement has been rightly criticised for being too hastily drafted, ambiguous and contradictory, making it difficult to implement.
Verifying, please be patient.