World Health Summit: Global leaders pledge $2.5 billion for polio eradication
Context
Context:
Global leaders at the World Health summit have committed to donating $2.54 billion to eradicating polio at the World Health Summit.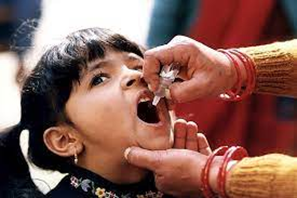 Details:
Global leaders October have committed to donating $2.54 billion for eradicating polio at the World Health Summit. The amount will equal about Rs 19 crore.
Bill & Melinda Gates Foundation pledged $1.2 billion to the largest international public health initiative, Global Polio Eradication Initiative (GPEI).
The initiative needed $4.8 billion to implement its 2022-2026 strategy fully.
The group talked about the continued roll-out of the novel oral polio vaccine type 2 (nOPV2).
Polio, or poliomyelitis, is a disabling and life-threatening disease caused by the poliovirus. The virus spreads from person to person and can infect a person's spinal cord; causing paralysis (can't move parts of the body). It can spread easily from person to person. The World Health Organization's (WHO) aim is to eradicate polio completely and, if this happens, it will be only the third disease to have been beaten in this way, after smallpox and rinderpest. There are two vaccines available to fight polio: inactivated poliovirus (IPV) oral polio vaccine (OPV)
About
About nOPV2:
To better address the evolving risk of type 2 circulating vaccine-derived poliovirus (cVDPV2), GPEI with its partners is deploying an innovative tool – novel oral polio vaccine type 2 (nOPV2).
nOPV2 is being deployed under WHO's Emergency Use Listing procedure (EUL) to enable its rapid field availability.
The vaccine is a modified version of type 2 monovalent OPV (mOPV2):
It provides comparable protection against poliovirus
It is more genetically stable and less likely to be associated with the emergence of cVDPV2 in low immunity settings.
This means that nOPV2 has the potential to be a significant tool to help stop outbreaks more sustainably.
Global Polio Eradication Initiative:
The Global Polio Eradication Initiative is a public-private partnership led by national governments with six partners:
the World Health Organization (WHO),
Rotary International
the US Centers for Disease Control Prevention (CDC)
the United Nations Children's Fund (UNICEF)
Bill & Melinda Gates Foundation
Gavi, the vaccine alliance.
Its goal is to eradicate polio worldwide.
Mapping the Cases Polio cases- worldwide: Wild poliovirus is endemic in just two countries: Pakistan and Afghanistan. However, after just six cases were recorded in 2021, 29 cases have been recorded so far this year, including a small number of new detections in southeast Africa linked to a strain originating in Pakistan. Polio cases in India: The last case of polio in India was reported in Howrah, West Bengal on 13 January 2011. Since then, India has been free of the disease, officially receiving polio-free certification from the World Health Organization on 27 March 2014.
Polio Eradication Measures:
Global Polio Eradication Initiative:
It was launched in 1988 by the Global Polio Eradication Initiative (GPEI), by national governments and WHO. Presently, 80% of the world's population is now living in certified polio-free regions.
An estimated 1.5 million childhood deaths have been prevented, through the systemic administration of vitamin A during polio immunization activities.
India-specific initiatives:
Pulse Polio Programme: It was started with the objective of achieving hundred percent coverage under the Oral Polio Vaccine.
Intensified Mission Indradhanush 2.0: It was a nationwide immunization drive to mark the 25 years of the Pulse polio program (2019-20).
Universal Immunization Programme (UIP): It was launched in 1985 with the modification to 'The Expanded Programme of Immunization (EPI). The objectives of the Programme include:
Verifying, please be patient.
Our Centers
DELHI (Karol Bagh)
GS SCORE, 1B, Second Floor, Pusa Road, Karol Bagh, New Delhi - 110005 (Beside Karol Bagh Metro Station Gate No. 8)
BHUBANESWAR (Jaydev Vihar)
GS SCORE, Plot No.2298, Jaydev Vihar Square, Near HCG Day Care, BBSR - 751013
LUCKNOW (Aliganj)
GS SCORE, 2nd Floor, B-33, Sangam Chauraha, Sector H, Aliganj, Lucknow, UP - 226024