Gist of YOJANA : Kayakalp: Transforming Public Health Facilities
Kayakalp initiative of the Ministry of Health & Family Welfare began in 2015 with the aim of improving infrastructure upkeep hygiene and sanitation, and infection control practices in central government institutions and public health facilities in all states and UTs.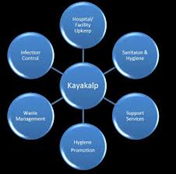 Sanitation was an integral part of Gandhi's Satyagrah. Thus he treated sanitation in a different way that's why he proclaimed "Everyone is his own Scavenger".
This statement reiterates the fact that cleanliness is a personal responsibility and the key to removing untouchability.
Mahatma Gandhi said, "Sanitation is more important than independence". He made cleanliness and sanitation an integral part of the Gandhian way of living. His dream was total sanitation for all.
"The Scavenger's Work must be Our Special Function in India". Through this, he firmly emphasized the need for education on hygiene and sanitation among Indians. "Swaraj Ought to Begin with Our Streets".
Initiatives taken for cleanliness in India
Taking inspiration from Gandhiji's idea on hygiene, GoI started a campaign, 'Swachh Bharat Abhiyan' or 'Clean India Mission'.
The drive has been categorized in two sub-missions, Swachh Bharat Abhiyan (Urban) that operates under the Ministry of Housing and Urban Affairs and Swachh Bharat Abhiyan (Rural) that falls and operates under Ministry of Jal Shakti.
To contribute to this national movement and addressing the growing challenges of sanitation and hygiene, the Ministry of Health and Family Welfare (MoH&FW) adopted a multi-pronged strategy and launched many initiatives for improving hygiene and sanitation holistically.
Kayakalp Initiative in detail:
Kayakalp Initiative of MoH&FW began in 2015 with the aim of improving infrastructure upkeep, hygiene and sanitation, and infection control practices in Central Government institutions and public health facilities in all the states and UTs.
Health facilities are assessed and scored on a number of parameters, and every year the highest-scoring facilities at each level receive recognition through Kayakalp Awards.
The scheme has resulted in significant improvement in the level of cleanliness, hygiene, and infection control practices at public healthcare facilities.
It has also inculcated a culture of ongoing assessment and peer review to promote hygiene and sanitation.
MoHFW has also used the platforms of Village Health Sanitation and Nutrition Committees under the National Health Mission and Mahila Arogya Samitis under the NUHM to promote sanitation in vulnerable urban communities.
Not only healthcare professionals or health department, but MoHFW has also worked on inter-ministerial collaboration for hygiene and sanitation.
MoHFW and Ministry of Jal Shakti started an integrated scheme, the "Swachh Swasth Sarvatra" in December 2016.
Under the initiatives, resources have been provided to CHCs (Common Service Centres) located in Open Defecation Free blocks, which are yet to meet Kayakalp criteria.
In 2019, the country's three best PHCs Under Kayakalp from Andhra Pradesh, Gujarat and Karnataka were also felicitated by Ministry of Jal Shakti.
Swachh Bharat Abhiyan along with Kayakalp has given a thrust to the country's efforts to achieve Sustainable Development Goal 3 (Good Health and Well Being) and Goal 6 (Clean water and sanitation) respectively.
The overall activities to maintain hygiene have now developed into a habit, sustaining a Kayakalp certification or an ODF certification has led to people practising hygiene practices in their daily lives. The synergy and momentum achieved under SBM shall continue to expand and deliver a 'Clean India, a Healthy India'.