Download PDF
Introduction
India and China reached an agreement on disengagement of troops from the north and south banks of the Pangong Lake in eastern Ladakh, Defence Minister Rajnath Singh informed Rajya Sabha. The defence minister assured the House that India has not conceded anything while entering into the disengagement process, adding there are "some outstanding issues" with regard to deployment and patrolling at some other points along the LAC in eastern Ladakh.
Under the disengagement agreement, both sides will cease their forward deployments in a phased, coordinated and verified manner in these areas.
The Chinese side will keep its troop presence in the North Bank area to the east of Finger 8.
Reciprocally, the Indian troops will be based at their permanent base near Finger 3.
Similar action would be taken in the South Bank area by both sides.
These are mutual and reciprocal steps and any structures that had been built by both sides since April 2020 in both North and South Bank areas will be removed. In this edition of the Big Picture, we will analyse the India-China Pullback from UPSC Civil Services Examination perspective.
Edited Excerpts from the Debate
What is in the disengagement agreement?
The two sides had reached an agreement to withdraw from Pangong Tso, a glacial lake at 14,000 ft (4,270 metres), after several rounds of talks between military commanders and diplomats from the nuclear-armed neighbours.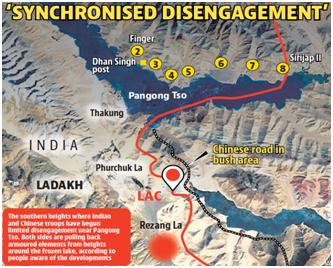 Chinese forces will continue to have a troop presence in the north bank of Pangong Lake to the east of Finger 8. Meanwhile, Indian troops will also re-position its forces at its permanent base at the Dhan Singh Thapa post near Finger 3.
Similar disengagement is set to take place along the south bank of Pangong Lake. It is worth noting though that this region houses the Kailash range, a crucial area that, if controlled, provides a sizeable tactical advantage.
The disengagement will also entail that any structures built by both forces since April last year in the north and south banks of the Pangong Lake area will be dismantled, with landforms restored.
The two parties have also agreed to conduct the next meeting of Senior Commanders within 48 hours from when complete disengagement in Pangong Lake takes place, with a view towards resolving outstanding issues.
How things added up?
Tensions between the two countries flared up in June after deadly clashes between soldiers in Ladakh's Galwan Valley. Twenty Indian soldiers were killed. China is believed to also have suffered casualties as well but has not given any details.
The standoff has persisted with both sides bolstering forces along the border. Both India and China have accused each otherof crossing into the rival territory and of firing shots for the first time there in 45 years.
Several rounds of the diplomatic and military level of talks have been held over the past few months to disengage troops. The ninth round of Corps Commander-level talks took place on January 24.
What is the current diplomatic position in China?
China has realised that the geopolitics continues to remain one in which they will be looked at by the entire world for not following rules-based international order and it is not a simple matter to do these transgressions and do such kind of expansions and get away with it.
How is disengagement carried out on the ground?
As far as disengagement is concerned, it taking place at two places now:

North of Pangong Tso
South of Pangong Tso

As far, north of Pangong Tso is concerned, China is occupying up till finger four. Now the Chinese have to vacate finger 4, 5, 6 and 7, and they have to fall back to finger eight.
It means the infrastructure which they have built has to be removed and then they have to physically move to finger 8 in a phased and deliberate move.
The development will be verified on the ground.
Accordingly, as far as India is concerned, it will have to move from finger 4 to finger between finger 2 and 3 at Dhan Singh Thapa Post, which is ITBP post.
The area between Dhan Singh Thapa and finger 8, as of today will not be patrolled. It will be decided after diplomatic talks build-up thereafter.
Both sides have to de-engage, de-escalate and de-induct the troops to the lines which have been mentioned- Chinese to finger 8 and India to between finger 2 and finger 3.
What are the possible factors responsible for the disengagement of troops?
This is the result of India being quite resolute and strong in asserting its position.
However, there is a deficit of trust today that exists between India and China. Given the manner of Chinese propaganda in China, this is the first baby step towards diffusing the situation and disengagement.
Which subject remains open?
Large portions of our territory, i.e., over 38,000 in the western sector in Ladakh and over 90,000 claimed by China in Arunachal Pradesh are in illegal occupation of the Chinese.
Other friction points will be addressed in due course. That's why this latest development is only the first step.
Conclusion
Though this is a possible development, some issue remains concerning deployment and patrolling at some points along the LAC in Eastern Ladakh. They will be discussed during future India-China talks at the military and diplomatic level.
Value Addition
The India-China border
The border between India and China is not demarcated throughout.
Along certain stretches of its 3,488-km length, there is no mutually agreed Line of Actual Control (LAC).
India, following Independence, believed it had inherited firm boundaries from the British, but this was contrary to China's view.
China felt the British had left behind a disputed legacy on the boundary between the two newly formed republics.
The India-China border is divided into three sectors
Western:The boundary dispute in the Western Sector pertains to the Johnson Line proposed by the British in the 1860s that extended up to the Kunlun Mountains and put Aksai Chin in the then princely state of Jammu and Kashmir.
Middle:In the Middle Sector, the dispute is a minor one. It is the only one where India and China have exchanged maps on which they broadly agree.
Eastern:The disputed boundary in the Eastern Sector of the India-China border is over the MacMahon Line.
India and China have not been able to agree on their 2,200mile-long border since the war in 1962.
What is the source of tension?
The root cause is an ill-defined, 3,440km (2,200-mile)-long disputed border.
Rivers, lakes and snowcaps along the frontier mean the line can shift, bringing soldiers face to face at many points, sparking a confrontation.
The two nations are also competing to build infrastructure along the border, which is also known as the Line of Actual Control.
India's construction of a new road to a high-altitude airbase is seen as one of the main triggers for a clash with Chinese troops in June that left at least 20 Indian soldiers dead

What is Pangong Lake?
Pangong Tso is an endorheic lake (landlocked) that is partly in India's Ladakh region and partly in Tibet.
The name reflects the mixed heritage of the lake: Pangong in Ladakhi means extensive concavity, the word Tso is Tibetan for the lake.
Situated at an elevation of about 4,270 m, it is a nearly 135-km long, narrow lake — 6 km at its widest point — and shaped like a boomerang. Its total area is over 600 sq km.
The Karakoram Mountain range, which crosses Tajikistan, Afghanistan, Pakistan, China and India, with heights of over 6,000 metres including K2, the world's second-highest peak, ends at the north bank of Pangong Tso.
Its southern bank too has high broken mountains sloping towards Spangur Lake in the south.