Annabhau Sathe's Statue inaugurated in Moscow
Context
In a rare honour, a statue of Marathi litterateur and social reformer "Lokshahir" Annabhau Sathe, considered the Father of Dalit Literature, got inaugurated in Russian capital of Moscow.
About
About Annabhau Sathe: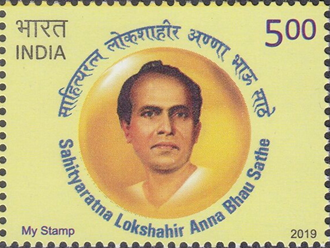 Annabhau Sathe (real name: Tukaram Bhaurao Sathe) was born in 1920 in Maharashtra's Satara district.
He is widely regarded as the Father of Dalit literature and has contributed extensively to the Ambedkarite movement.
In 1934, Sathe participated in a workers' strike under the leadership of Lal Bawta Mill Workers Union.
It was during his days at the Matunga Labour Camp that Sathe got to know RB More, an associate of Dr Babasaheb Ambedkar in the famous 'Chavdar Lake' Satyagraha at Mahad, and joined the labour study circle.
Progressive Writers Association was formed at the national level at the same time with the likes of Premchand, Faiz Ahmad Faiz, Manto, Ismat Chugtai, Rahul Sankrutyayan, Mulkraj Anand as its members.

The group would translate the Russian work of Maxim Gorky, Anton Chekhov, Leo Tolstoy, Ivan Turgenev into Marathi, which Sathe got hooked on.
It is here that he was inspired to write street plays, stories, novels etc. In 1939, he wrote his first ballad 'Spanish Povada'.
His Work:
Several of his works like 'Aklechi Goshta,' 'Stalingradacha Povada,' 'Mazi Maina Gavavar Rahili,' 'Jag Badal Ghaluni Ghav' were popular across the state.
Almost six of his novels were turned into films and many translated into other languages, including Russian.
His 'Bangalchi Hak' (Bengal's Call) on the Bengal famine was translated into Bengali and later presented at London's Royal Theatre.
Sathe's work was immensely inspired by the Russian revolution and the Communist ideology.
He was a member of the Communist Party of India (CPI) and featured among the selected authors from India whose work was translated in Russian.
Sathe is also regarded as the 'Maxim Gorky' of Indian literature.
He was the first Indian whose books including Powada of Stalingrad and My Journey to Russia were prescribed in Russian universities.
In 1943, he was part of the process that led to the formation of the Indian Peoples Theatre Association (IPTA). He became its national president in 1949.
Verifying, please be patient.