Centre introduces Antarctica Bill in Lok Sabha
Context
The government recently introduced the 'Antarctica Bill' in the Lok Sabha that envisages regulating visits and activities to Antarctica as well potential disputes that may arise among those present on the continent.
About
Indian Antarctic Bill, 2022
Aims and objectives:
To provide for national measures to protect the Antarctic environment and associated ecosystems and to give effect to the Antarctic Treaty
To provide a harmonious policy framework for India's Antarctic activities through a well-established legal mechanism
Facilitate activities of the Indian Antarctic programme, including management of Antarctic tourism and sustainable development of fisheries
To prohibit Indian expedition to Antarctica or carrying of certain activities in Antarctica without a permit or the written authorisation of another party to the protocol
To provide for inspection in India by an officer designated by the Central government as an Inspector and to constitute an inspection team to carry out inspections in Antarctica.
Need for the Antarctic Legislation
The growing presence of Indian scientists in Antarctica and the commitment to Antarctic research and protection prompted the government to adopt domestic legislation consistent with its obligations as a member of the Antarctic Treaty system.
These laws will enable India's courts to deal with disputes or crimes committed in parts of Antarctica, and help build credibility vis-à-vis India's participation.
India and Antarctica:
India is a signatory of the Antarctic Treaty, the Convention on the Conservation of Antarctic Marine Living Resources and the Protocol on Environmental Protection.
India took its first expedition to Antarctica in 1982.
The country maintains two research stations on Antarctica – Maitri (since 1989) at Schirmacher Hills and Bharati (2012) at Larsemann Hills – and has launched 41 expeditions to the continent thus far.
About Antarctic Treaty:
The Antarctic Treaty was signed in Washington in 1959 by the 12 countries whose scientists had been active in and around Antarctica.
The Antarctic Treaty came into force in 1961.
The total number of Parties to the Treaty is now 54.
The Treaty covers the area south of 60°S latitude.
Its objectives are simple yet unique in international relations. They are:
to demilitarize Antarctica, to establish it as a zone free of nuclear tests and the disposal of radioactive waste, and to ensure that it is used for peaceful purposes only
to promote international scientific cooperation in Antarctica
to set aside disputes over territorial sovereignty
Some important provisions of the Treaty:
Antarctica shall be used for peaceful purposes only
Freedom of scientific investigation in Antarctica and cooperation toward that end… shall continue
Scientific observations and results from Antarctica shall be exchanged and made freely available
The three international agreements are:
Convention for the Conservation of Antarctic Seals (1972)
Convention on the Conservation of Antarctic Marine Living Resources (1980)
Protocol on Environmental Protection to the Antarctic Treaty (1991)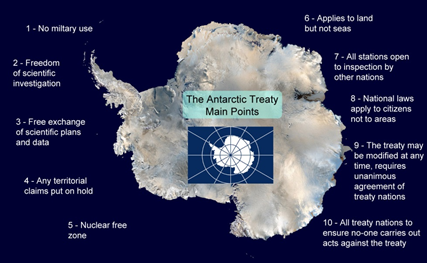 Verifying, please be patient.