Chinese surveillance vessel 'Yuan Wang 5' re-enters Indian Ocean
Context
According to the maritime vessel-tracking portal marinetraffic.com, Chinese vessel 'Yuan Wang 5' has re-entered the Indian Ocean, which is seen as a surveillance move by China.
Background:
The Chinese presence in the Indian Ocean began in 2008 as piracy operations in the Gulf of Aden and has since maintained continuous presence in the region, even deploying nuclear attack submarines (SSN), on occasions.
Yuan Wang-5 entered Indian Ocean last year for similar reasons.
In a recent incident on November 2022, another vessel 'Yuan Wang 6' had entered the Indian Ocean Region (IOR) coinciding with a planned Indian missile launch, but the launch was then deferred.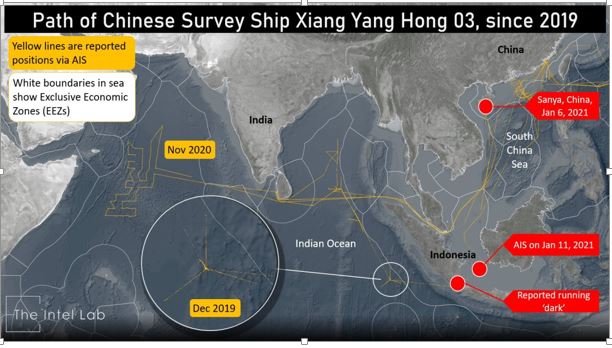 The Chinese vessel 'Yuan Wanh-5':
Yuan Wang 5 is the Chinese marine research, satellite and ballistic missile vessel.
It is currently mapping Indian Ocean bed 2000 kilometres (1100 nautical miles) south of Sri Lanka giving rise to the possibility of Beijing exploring a new sea route to Africa's eastern seaboard by bypassing contested Malacca, Sunda, and Lombok Straits.
China-Sri Lanka Agreement: (Reason for China's presence in Indian Ocean)
The strategic ship has become a bone of contention between India and China after the concerns over the vessel being allowed to berth at Hambantota port by the Sri Lankan President.
The Hambantota Port was leased to China for 99 years in 2017 by the then Prime Minister Ranil Wickremesinghe in a debt for equity swap as Sri Lanka had defaulted on the Chinese loan.
The vessel left Hambantota on August 22 after Sri Lankans replenished the ship with food, diesel, oil, and lubricants.
India's concern:
Planned Tests: The vessel entered into the Indian Ocean coincides with a planned Indian long-range missile test going to held between December 15 and 16 in the Bay of Bengal region by India.
India had also issued a notification NOTAM (Notice to Airmen), for a no-fly zone over the Bay of Bengal for a possible missile launch with a window between December 15-16, for a maximum distance of 5400 km.
The presence of Chinese vessel can disrupt the event.
Debt-diplomacy: China has often been accused of engaging in "debt diplomacy" in the neighbouring countries to India, under its Belt and Road Initiative allegedly in the name of infrastructure development.
Increased presence in Indian Ocean: Since 2008, China has regularly deployed a contingent of naval warships in the Gulf of Aden and established its first foreign military base in Djibouti in 2017.
Politicization of Indian Ocean: At the same time, India's absence is seen as an attempt to challenge India's traditional presence in the region amid apprehensions of politicization of the Indian Ocean region.
Verifying, please be patient.