How is India planning to end child marriage?
Context
The steering committee of the UNFPA-UNICEF Global Programme to End Child Marriage is on a visit to India to witness state interventions that have helped reduce the prevalence of child marriage.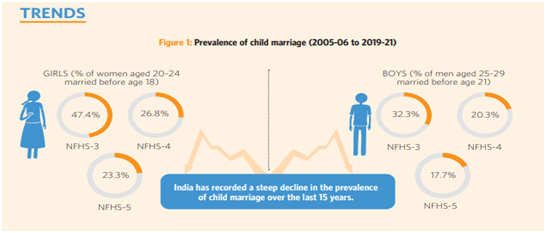 About
UNFPA-UNICEF Global Programme to End Child Marriage:
The UNFPA(United Nations Population Fund)-UNICEF Global Programme to End Child Marriage is the first United Nations-led joint initiative designed with a focus on promoting the rights of adolescents to delay marriage.
It highlights the need for targeted and focused interventions to accelerate progress to end child marriage.

Phase 1:It was launched in 2016 and covers 12 countries - Bangladesh, Burkina Faso, Ethiopia, Ghana, India, Mozambique, Nepal, Niger, Sierra Leone, Uganda, Yemen, and Zambia.
Phase 2:The Global Programme, currently in its second phase (2020-2023), has reached over two million girls through life skills education interventions.
Phase 3:This phase has the longer-term, gender-transformative goal of enabling significantly larger numbers of adolescent girls and boys to fully enjoy their rights and choices and experience a childhood free from the risk of marriage.
The situation in the world:
Data from UNICEF
The total number of girls married in childhood stands at 12 million per year.

More than 150 million additional girls will marry before they turn 18 by 2030 if no further efforts have been made.

In South Asia, a girl's risk of marrying before she is 18 has dropped by more than a third.

Children born to adolescent mothers have a greater possibility of seeing stunted growth as they have low weight at birth.
Where does India stand?
The growing trend for a decline in the overall prevalence of child marriage.

West Bengal, Bihar, and Tripura top the list with more than 40% of women aged 20-24 years married below 18.
Child Marriage And Associated Factors:
Girls belonging to poorer families, living in rural areas, and with little or no education are more likely to experience child marriage.

Child marriage spells an end to childhood, deprives children of their rights, and leads to negative consequences for society.
The role played by the Government of India:
NFHS-5 (2019-21):
48% of girls with no education were married below 18 years of age as compared to only 4% among those who attained higher education.

40% of girls from the lowest quintile were married before they turned 18, contrasted against 8% from the highest wealth quintile.

The prevalence of child marriage is almost double in rural areas when compared to urban areas.
How are the States placed?
In Jharkhand, 32.2% of women in the age bracket 20-24 got married before 18.

Infant mortality stood at 37.9%, and 65.8% of women in the 15-19 age bracket are anemic.

Assam also has a high child marriage prevalence (31.8% in 2019-20 from 30.8% in 2015-16).

Madhya Pradesh and Haryana have shown a reduction in child marriages.

States with high literacy levels and better health and social indices have fared much better on this score.

In Kerala, women who got married before the age of 18 stood at 6.3% in 2019-20, from 7.6% in 2015-16.
What are the laws and policy interventions?
Prohibition of Child Marriage Act, 2006:

It provides that the minimum age of marriage is 21 years in the case of males, and 18 years in the case of females. The Bill increases the minimum age for females to 21 years.

Protection of Children from Sexual Offences Act, 2012:

The act protects children from offenses of sexual assault, sexual harassment, and pornography and provides for the establishment of Special Courts for the trial of such offenses and for matters connected therewith or incidental thereto.
Centralized schemes:
BetiBachaoBetiPadhao needs better implementation on the ground.

West Bengal's Kanyashree scheme offers financial aid to girls wanting to pursue higher studies.

Bihar'Rupashree, which provides a one-time payment of Rs 25,000 to poor families at the time of a daughter's marriage,
What needs to be done?
Engaging gram panchayats

empowering girls

creating proper public infrastructure

addressing societal norms
Pathways for Change
Addressing poverty as a driver:

We need inclusive economic growth that reaches the most marginalized communities and families to tackle poverty as a key driver of child marriage.

Enhancing education opportunities:

The need of the hour is investments in quality secondary and higher education to enable girls to gain knowledge and skills and expand their life options.

Access to right-based health information and services:

There is an urgent need for targeted delivery of essential life skills, including sexual and reproductive health information and services for adolescents (married and unmarried) to enable informed choice and reduce unintended pregnancy.

Addressing internalized inequitable values and attitudes:

We need to tackle harmful gender norms and power dynamics to ensure that girls (both married and unmarried) are empowered to make their own decisions about their lives and regarding if, when, and whom they want to marry.

Promoting positive masculinity and engaging men and boys:

Men and boys are key stakeholders in addressing harmful practices and gender-based violence – working with them is critical to advance empowerment-oriented pathways for all.
Verifying, please be patient.