How marine fisheries can add to Africa's catch
Context
In a study conducted, it has been found that the need of growing population in Africa is dependent on Marine fishes for survival.
Now it became particularly important to give attention to the development of Africa's "blue economy".
The problem statement (Africa's fisheries sector & increasing demand)
The African marine fisheries sector is huge. It's valued at more than US$24 billion per year.
Africa's population is expected to reach 7 billion in 2030 and 2.5 billion in 2050.
Fish consumption is already 5 kg per capita per year. It would need to grow to 13 million tonnes of marine fish in 2030 and almost 19 million tonnes in 2050.
The African continent produces seven million tonnes of marine fish a year.
This capture has increased in recent years as the improved catches in West Africa and the end of Somalian piracy in the Indian Ocean.
But the growth in supply can't match the growing demand.
These figures provide an idea of the scale of the production gap: about six million tonnes in 2030 and 12 million in 2050.
What is the Blue economy?
The 'Blue Economy' is an emerging concept that encourages better development of our ocean or 'blue' resources.
It is important to note that the blue economy goes beyond viewing the ocean economy solely as a mechanism for economic growth.
Significance of marine-based Economy in the Indian Ocean
High Return on Investment: New research commissioned by the high-level panel for a sustainable ocean economy, co-chaired by the Norwegian Prime Minister (PM), shows that every dollar invested in key ocean activities yields five times i.e. $5 in return, often more.
Synergy with SDG: It supports all of the United Nations' Sustainable Development Goals (SDGs), especially SDG14's life below water.
Sustainable Energy: Supporting the increasing demand for renewable energy, offshore regions have tremendous potential in the form of offshore wind, waves, ocean currents including tidal currents, and thermal energy.
Generate Employment: The blue economy has the potential to grow employment opportunities in the region by engaging people in marine-based activities like fishing etc.
Threat to the marine fisheries sector
unsustainable rates of fishing
weak fisheries governance
Climate change
Habitat destruction
Territorial boundary issues
India's fisheries sector
India is the second largest fish-producing country in the world accounting for 7.56% of global production and contributing about 1.24% to the country's Gross Value Added (GVA) and over 7.28% to the agricultural GVA.
The fisheries sector has been recognized as a 'Sunrise Sector
India's steps for building Blue Economy
Sagarmala Project: It focuses on the development of coastal communities and people in the sustainable use of ocean resources, modern fishing techniques, and coastal tourism.
O-SMART: India has an umbrella scheme by the name of O-SMART which aims at the regulated use of oceans, and marine resources for sustainable development.
National Fisheries Policy: India has a National Fisheries policy for promoting the 'Blue Growth Initiative' which focuses on the sustainable utilization of fisheries wealth from marine and other aquatic resources.
Pradhan Mantri Matsya Sampada Yojana (PMMSY)
Fisheries and Aquaculture Infrastructure Development Fund (FIDF)
Issuance of Kisan Credit Card (KCC) to fishers and fish farmers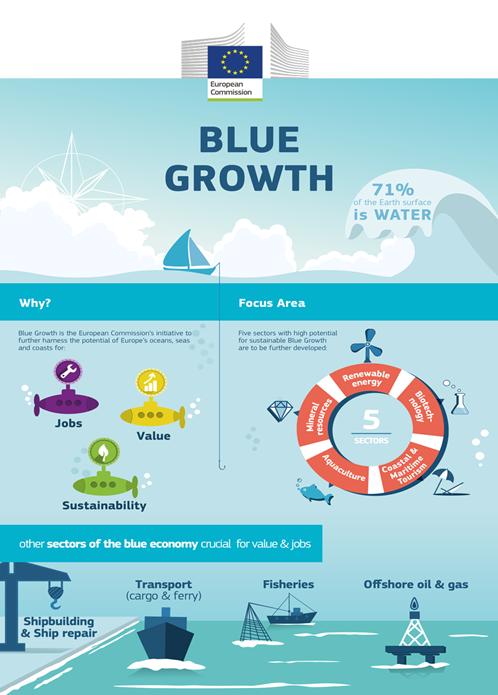 Verifying, please be patient.