India is ripe for the sodium-ion battery revolution
Context
The Indian off-grid energy storage market is expected to expand exponentially as the country aims to fulfil 50 per cent of its energy demands from renewable sources by 2030, resulting in high demand for storage batteries.
Battery Revolution in India:
Future aspirations: India plans to have electric vehicle (EV) sales penetration of
30 per cent for private vehicles,
70 per cent for commercial vehicles,
40 per cent for buses and
80 per cent for two and three-wheelers by 2030
At present, the two dominant commercial options to fulfil energy storage needs in India are
Lithium-ion batteries (LIB) and
Lead-acid batteries (LAB)
Lead-acid batteries (LAB):
LABs are hugely popular in India, especially for the manufacturing of two and three-wheeler electric vehicles.
LABs are popular because of their affordability, material accessibility and recycling rates.
LABs save 13.3% more emissions than nickel-manganese-cobalt (NMC) batteries. But their emissions can increase by 69 per cent if utilisation and disposal are considered.
Lithium-ion batteries (LIB)
LIBs have gained high commercial value in the global market due to their high energy density, compact size and enhanced cycle life.
Apart from being the drivers of EV manufacturing in the world, they are used for energy storage in electronics and off-grid power supply.
Sodium-ion Batteries (SIBs):
Sodium-ion batteries have three essential components:
a negatively charged anode made up of hard carbons;
a positively charged cathode constituting sodium-containing layered materials; and
an electrolyte that allows electrons to move
They work in a similar manner to lithium batteries.
When the batteries are in a charging state, sodium atoms in the cathode become ions by releasing electrons.
These ions flow through the electrolyte while the electrons move through an external circuit to reach the anode.
During the discharge state, the reverse happens—from anode to the cathode.


About Sodium:
The element is abundant in nature—the Earth's crust has 2.9 per cent of the element while lithium's share is only 0.01 per cent.

Sodium is the fourth most abundant element on earth, has a seemingly unlimited distribution.

Sodium can be found naturally in seawater and also mined from soda ash.
The cost of extracting sodium is at least 20 per cent lower than lithium.
Sodium is also relatively safer than lithium.
Advantages of SIBs:
SIBs have 45% less global warming potential than lithium iron phosphate (LFP) batteries and about 25% less than Nickel-Manganese-Cobalt (NMC) batteries in the cradle-to-gate life cycle comparison.
SIBs have already reached an energy density of up to 160 watt hour per kilogram (Wh/kg), which is equivalent to LFPs and about 75 per cent of NMCs, making them competitive for stationary storage.
They have also shown positive results in retaining capacity, resisting moisture and having little voltage fade, a common phenomenon with prolonged LIB cycles.
SIBs have higher operational safety than LIBs with their operable temperature ranging from -30?-60?, making their temperature endurance higher than other battery chemistries.
SIBs can be discharged to zero volts to avoid accidents during transportation, which also reduces the cost of transportation.
Difference between Sodium-ion Batteries and Lithium-ion batteries: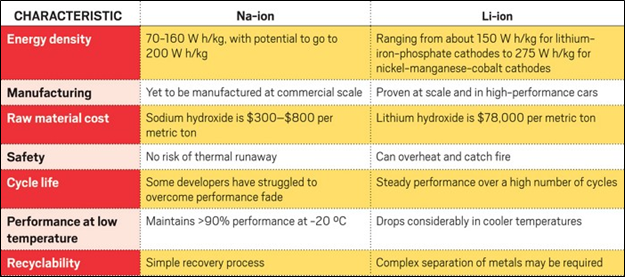 Verifying, please be patient.