India tops the list of Covid-related religious hostilities in 2020: Pew Research Center
Context
A study by Washington-based think tank Pew Research Centre puts India at the top of its index of 'social hostilities involving religion in 2020' assessing Covid restrictions.
Details of the study:
It focuses entirely on 'How Covid-19 restrictions affected religious groups around the world in 2020'.
It takes into account increased violence around protests of the Citizenship Amendment Act.
It also notes the controversy around the Tablighi Jamaat meeting in Delhi and the subsequent use of Islamophobic hashtags, seeking to blame Muslims for the virus.
About Pew Research Center:
Pew Research Center is a nonpartisan fact tank.

It informs the public about the issues, attitudes, and trends shaping the world.

It conducts public opinion polling, demographic research, and content analysis.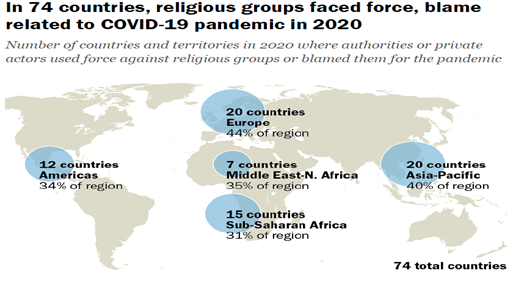 Concerns highlighted:
The study makes mention of targeting minorities in India during the pandemic.
Pandemic-related social hostilities against religious groups that involved physical violence were reported in just four countries- India, Argentina, Italy, and the United States.
Of the 198 countries listed in the Social Hostilities Index (SHI), 11 have been clubbed together as "very high" with scores of 7.2 or higher.
At 9.4 out of a maximum possible score of 10, India's Social Hostilities Index (SHI) in 2020 was worse than neighboring Pakistan and Afghanistan.
Social Hostilities Index (SHI):
The Social Hostilities Index is used by the Pew Forum to gauge hostilities both between and within religious groups, including mob or sectarian violence, crimes motivated by religious bias, physical conflict over conversions, harassment over attire for religious reason, and other religion-related intimidation and violence, including terrorism and war.
Implications of hate Crime against religious minorities:
Psychological Distress:

People victimized by violent hate crimes are more likely to experience more psychological distress than victims of other violent crimes.

Sends Wrong Signal to the Society:

Hate crimes send messages to members of the victim's group that they are unwelcome and unsafe in the community, victimizing the entire group and decreasing feelings of safety and security.
Indian Laws Against Hate Crimes:
Though the term is nowhere mentioned in any statute, its different forms are identified across the laws.
The IPC under Sections 153A, 153B, 295A, 298, 505(1), and 505(2) declares that word, spoken or written, that promotes disharmony, hatred, or insults on basis of religion, ethnicity, culture, language, region, caste, community, race, etc., is punishable under law.

53A:

It penalizes the promotion of enmity between different groups.

153B:

It punishes imputations, and assertions prejudicial to national integration.

505

: It punishes rumors and news intended to promote communal enmity.

295A:

It criminalizes insults to the religious beliefs of a class by words with deliberate or malicious intention, contributing to combating hate speeches.

Some other laws which contain provisions concerning hate speech and its prevention are:

It classifies hate speech as an offense committed during elections into two categories: corrupt practices and electoral offenses. The relevant provisions regarding hate speech in the RPA are Sections 8, 8A, 123(3), 123(3A), and 125.

Ways to Stop religious hostilities against minorities:
Sensitization

Specialized Legislation

Community Policing

Youth Involvement and Counselling

Training for Officers and Deputies
Verifying, please be patient.