India's GDP can grow to $40 trillion if working-age population gets employment: CII report
Context
According to a report by the Confederation of Indian Industry (CII), India's Gross Domestic Product (GDP) can grow from the current $3 trillion to $9 trillion by 2030, and $40 trillion by 2047, if the country's working-age population — which is expected to increase by over 100 million people between 2020 and 2030, is productively employed.
About
Key findings of the report:
In 2020, there were about 900 million people (67% of total population) in the working age group of 15-64 in India, which is expected to expand by another 100 million by 2030, despite a declining trend in fertility rate.

This implies that a whopping 24.3% of the incremental global workforce over the next decade will come from India.

The golden period of 30 years between 2020-50 where our working age population will bulge can be an important horizontal enabler to bolster growth, even as the developed world including China ages.
Closing the skill gaps of its qualified workforce will be critical, as India depends more on human capital than its peer countries that have a similar level of economic development.
The report cautioned that if India does not create enough jobs and its workers are not adequately prepared for those jobs, its demographic dividend may turn into a liability.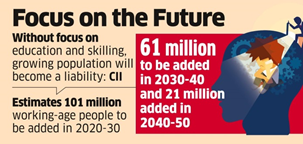 Confederation of Indian Industries (CII)
It is a non-government, not-for-profit, industry-led and industry-managed organization.
It was founded in 1895.
It headquarters in New Delhi.
It works to create and sustain an environment conducive to the development of India, partnering industry, Government and civil society, through advisory and consultative processes.
Verifying, please be patient.