Justice DY Chandrachud named India's next Chief Justice by CJI Lalit
Context
Chief Justice of India, U.U Lalit has recommended the name of Justice D Y Chandrachud, the judge of the Supreme Court, as his successor.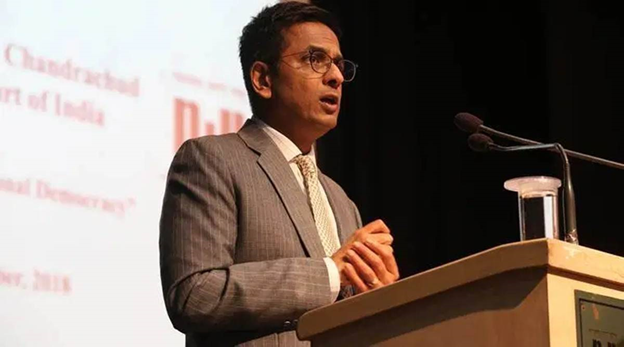 About
About D Y Chandrachud:
Presently he is the second most senior judge of the Supreme Court.
If approved by the government, Justice Chandrachud will be in office for two years — until November 10, 2024.
He served as Additional Solicitor General from 1998.
He was also the Director of the Maharashtra Judicial Academy.
His father, Y V Chandrachud, too served as the CJI and had a stint of over 7 years.


Landmark Judgements by Justice Chandrachud:
Justice K S Puttaswamy (retd) & Another vs Union of India & Others:
A nine-judge bench that included him recognized privacy as a fundamental right.
He dealt with the constitutional validity of the Aadhaar (Targeted Delivery of Financial and Other Subsidies, Benefits, and Services) Act, 2016. While the majority upheld the Act, Justice Chandrachud held it had been passed unconstitutionally as a Money Bill.
Navtej Singh Johar and Others vs Union of India case:
Supreme Court decriminalized Section 377 of the Indian Penal Code (IPC) making same-sex relations legal.
Recently, an SC bench headed by him extended the right to safe and legal abortion up to 24 weeks of pregnancy to unmarried and single women.
He was also part of the five-judge Supreme Court bench that decided the Ayodhya title dispute matter.
The procedure of appointment of Chief justice of India:
While the Constitution of India does not mention any procedure for appointing the CJI, the naming of the successor relies on convention.
Article 124 (1) of the Constitution merely says, ""there shall be a Supreme Court of India consisting of a Chief Justice of India." It also says that every Judge of the Supreme Court shall be appointed by the President.
As per convention, the outgoing CJI recommends his successor, strictly based on seniority.
The Union Law Minister then forwards the recommendation to the Prime Minister who, in turn, advises the

Verifying, please be patient.