Global Innovation index, 2022
Context
The World Intellectual Property Organization (WIPO) recently released the Global Innovation Index (GII) 2022 in which Switzerland has emerged as the world's most innovative economy for the 12th consecutive year.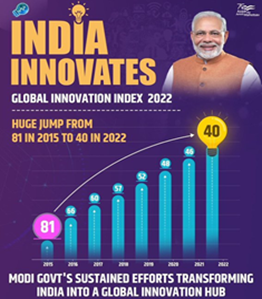 About
Key highlights of Global Innovation Index (GII) 2022:
Moving into its 15th edition in 2022, the Global Innovation Index has been a leading reference for measuring an economy's innovation performance.
A large number of countries use the GII to assess and improve their innovation ecosystems and use the GII as a reference in economic plans and/or policies.
India secured the 40th positionin the Global Innovation Index. Last year, India was at the 46th
The index shows that emerging economies including, India and Turkey, are showing consistently strong performance.
This edition's thematic focus on the future of innovation-driven growth provides a stance on whether stagnation and low productivity growth are here to stay, or whether we are about to enter a new era, where new innovation spurts - the Digital Age and the Deep Science Innovation waves - bring about an economic uplift.
Switzerland is the most innovative economy in the world in 2022 - for the 12th year in a row - followed by the United States, Sweden, the United Kingdom and the Netherlands.
China is nearing the top 10 while Turkey and India enter the top 40 for the first time.
About Global Innovation Index (GII):
The Global Innovation Index (GII) is an annual ranking of countries by their capacity for, and success in innovation.
It is published by Cornell University, INSEAD, and the World Intellectual Property Organization, in partnership with other organisations and institutions, and is based on both subjective and objective data derived from several sources, including the International Telecommunication Union, the World Bank and the World Economic Forum.
The overall GII score is the simple average of the Input and Output Sub-Index scores.

The Innovation Input Sub- Index is comprised of five input pillars that capture elements of the national economy that enable innovative activities:

Institutions, Human capital and research, Infrastructure, Market sophistication, and Business sophistication.

The Innovation Output Sub- Index provides information about outputs that are the results of innovative activities within the economy. There are two output pillars:

Knowledge and technology outputs and Creative outputs.
Analysis
What is the realistic potential of India's Innovation ecosystem?
The Indian innovation system is very multifaceted in terms of user segments and income gaps. However, central government is trying to boost innovation in the country through several schemes.
Innovation in India is being planned around the triangle of collaboration, facilitation and responsible regulation. It is advanced by cross-disciplinary collaboration.
India is the fastest growing country in terms of Internet usage, with over 700 million users and the number projected to rise to 974 million by 2025.
The JAM (Jan Dhan, Aadhaar, and Mobile) trinity has 404 million Jan Dhan bank accounts with 1.2 billion Aadhaar and 1.2 billion mobile subscribers.
Recent Initiatives of Government of India to boost innovation
Vaishvik Bharatiya Vaigyanik (VAIBHAV) summit: Numerous overseas Indian-origin academicians and Indians participated to form ideas on innovative solutions to several challenges.
Responsible AI for Social Empowerment (RAISE) 2020 summit: It grants a course to efficiently use AI for social empowerment, inclusion, and transformation in key sectors such as health care, agriculture, finance, education and smart mobility.
Smart India Hackathons (SIH): To provide students a platform to solve some of pressing problems of society.
Atal Innovation Mission (AIM): To promote innovation and entrepreneurship across India.
Biotechnology Ignition Grant (BIG) scheme: Largest early stage biotech funding programme in India. Aims to encourage researchers to take bio-technology closer to market through a start-up.
What are the steps to be taken further?
Increase R&D spending: Government should frame a policy with the aim of increasing total GERD (Gross domestic expenditure on R&D) to 2% of India's GDP.
Global partnerships in innovation: Global innovation partnerships need to be strengthened by enhancing public-private partnership mechanisms and increased public funds should be earmarked for joint industrial R&D projects.
Idea-to-market challenge: Government needs to create a special fund to help Indian innovations to advance their start-ups during difficult times.