Context
Recently China announced to launch a new initiative, 'the Global Security Initiative' to counter the QUAD in the Indo-Pacific region.
Background
Indo –Pacific region remained a major focus not only in the contemporary times but from the historical times.
Even during the Colonial era, the British followed the expansionary policy by colonizing various countries like India, Myanmar and Sri Lanka to have a strategic presence in the region.
The Indian Ocean region and the Pacific Ocean region account for 60% of world trade.
How 'QUAD' came into picture?
Chinese claims over the Indo-Pacific region gave a potential threat to free navigation and overflight through the region.
As a response to increasing Chinese assertiveness, USA-India-Japan-Australia collaborated to form a grouping known as
Increasing cooperation of QUAD in the region gave a threat to the Chinese ambitions.
Analysis
Why Indo-Pacific region remains so important?
The Indo-Pacific region is important from the global perspective because of three reasons:
Cluster of important economies: Presence of the world's prominent economies USA, China, India and Japan are located in the region.
Economic contribution: The Indo-Pacific region offers enormous economic opportunities, both at the product and factor markets—as the region approximately comprisesof as many as 38 countries, accommodating 65 percent or 4.3 billion of the world population, and accounts for 63 percent of the world GDP.
Intra-region partnership: There has been an increased vigour in intra-region partnerships within countries in the Indo-Pacific, and also with extra-regional actors to offset the intensifying presence of China.
Emerging economies: New emerging economies like India, the Philippines and other ASEAN countries, including Asian tigers are Present in this region.
Eastern African Nations: Indo-Pacific also covers the eastern boundaries of Africa, which has wealth of natural resources.
Maritime trade: Above 50 percent of the world's maritime tradeoccurs in this region.
Marine resources: The presence of many island nations and present of continental slopes provides a proper ground for many economic activities:

Fishing
Energy resources
Generation of renewable energy
Why it is significant for India?
Cultural linkage: India is the birthplace of several religions, and Buddhism is one of them. ASEAN countries located in this Indo-Pacific region have huge presence of Buddhists. India has historical cultural ties with these nations.
Colonial linkage: India and many other nations of the region had a common colonial past, i.e. colonised by then European powers.
Strategic Perspective: India has been the pre-eminent power in the Indian Ocean region and net security provider for many island states.
India's diplomatic participation in the region
India has been an enthusiastic participator in mechanisms that signify India's growing responsibility in the Indo-Pacific:

East Asia Summit (EAS)
Indian Ocean Rim Association (IORA)
Association of Southeast Asian Nations (ASEAN)
Defence Ministers Meeting Plus

India has also been upholding the Free and Open Indo-Pacific (FOIP) approach and the Indo-Pacific Oceans Initiative (IPOI) apart from hosting multilateral naval exercise near the Andaman and Nicobar Islands

Exercise "Milan" (naval)
Exercise "Malabar" (naval)
"Tiger Triumph" military exercise
How China is playing in the Indo-Pacific region?
China has taken several steps to secure its strategic presence and increase the status quo in the region, like the debt trap policy and territorial claims over international waters and islands.
Territorial claims on international waters: China is losing its territorial claims in the South China Sea and conflict with other nations sharing the sea.
Claim over Taiwan: Territorial and political claim over Taiwan is one of the major steps taken by China to secure its presence.
Military bases: Military expansionism has emerged as one of the key themes of Chinese assertiveness. Opening and management of several dual purpose (Military and Civilian) ports, militarisation of hitherto unoccupied islands and artificial islands.

How China is playing in the region?
China has always had a high trade volume with the major Indo-Pacific countries, and this has been rising.
Over the years, Beijing has strengthened its economic tieswith the Indo-Pacific nations.
Countries such as Australia, South Korea, and Japan run a trade surplus against China, while India and Singapore run a trade deficit.
In addition to enjoying a trade surplus, Australia, South Korea, and Japan has China as their largest trading partner, and exports to China contributes significantly to their own economies.
Therefore, despite political hiccups, it is extremely important for these countries to maintain economic harmony with Beijing—so that there is no consequential decline in Chinese demand for their commodities.

What is Global Security Initiative?
An action plan is taken by China to counter the bloc and group politics in the Indo-Pacific region, e.g., QUAD and AUKUS.
What are the main objectives of the Initiative?
Comprehensive, Cooperation and sustainable security in Indo-Pacific Region.
Oppose unilateralism and say no to group Politics and blocs confrontation in the region.
Build an Asian Security model of Mutual Respect, openness and integration.
How far this can impact the present grouping in this region?
The main purpose behind the new initiative by China is to confront the USA hegemony in the Indo-Pacific region.
Militarisation of the new initiative can put a major challenge not only to the USA but also to other nations sharing the borders in this region.
Impact on Trade: Indo-Pacific region is also significant on the grounds of International trade via this region. The new initiative by China can provide China with a long arm strategy to pout barriers in this region.
Threat to territorial Integrity: Many ASEAN countries are facing territorial disputes with China, which may be enhanced via this new policy.
Threat to Democratic Ideals: Having a strategic presence in the region have the potential to give a threat to the democracy.
How this could impact India?
Territorial integrity: Among the other nations of QUAD India is the only country which shares a land boundary with China. Territorial conflict between two nations remained at a central position in diplomatic relations between the countries.
Strategic Presence: India is also trying to increase its strategic presence in the Indo-Pacific region to promote peace, security and free navigation in the international waters. A new security initiative can pose a threat to the strategic presence of India in this region.
Trade: Despite territorial conflict and power aspirations in the region, China has always remained one of the largest trade partners for India. Countering the QUAD initiative will have a direct impact on India's trade balance with China.
Pharmaceuticals: Apart from trade in other products India is also relying on China for its API components for pharmaceutical companies.
What will be the impact of rising power aspirations in this region?
Peace and stability: Rising power aspirations from various countries may disturb the sovereignty and integrity of the nations in this region. Along with having a direct impact on maintaining peace in the region.
New Cold War: Hegemony of China and the USA in the region and the power aspirations of these nations will give the scope for re-emergence of a new cold war in the region.
What steps India should take?
Non-Aligned stance: India should maintain an equal distance from both nations. The relationship between USA and China both are important for India in various aspects. India should maintain a non-aligned relationship with both nations.
Panchsheel: India should the promote the values of the Panchsheel Principles:

Mutual respect's territorial integrity and sovereignty.
Mutual non-aggression
Mutual non-interference in each other's' internal affairs
Equality and mutual benefit
Peaceful co-existence

Neighbourhood First Policy: India should focus on the neighbourhood first policy to have a close relationship with the nations in the region.
SAGAR Doctrine: Under SAGAR (Security and Growth for All in the Region) Doctrine India should collaborate with nations sharing the Indian Ocean.
Act East Policy: India should enhance its cooperation with the eastern nations like ASEAN countries to maintain the status quo in the region.
South-south Diplomacy: Most of the emerging economies share the Indo-Pacific region. India should focus on South-South diplomacy to collaborate with these emerging economies.
International and multilateral forums: India should collaborate with other nations for securing a proper rule-based world order in the international waters.
Aatmanirbhar Bharat: India should promote its domestic industries and exports, to reduce the dependence on other nations for essential imports.
Diversify the supply chain: Diversification of the supply chain can reduce the dependency on a particular country.
AYUSH and Alternative medicines: Ayush Scheme should be promoted so that our traditional medicines can be preserved and can reduce the use of API for pharmaceuticals. On this front government has introduced AYUSH Visa for treatment via Ayurveda and alternate medicines.
Conclusion
India Is the only country in the QUAD grouping which shares a land boundary with China, and the territorial disputes played an important role in deciding diplomatic relations between the two nations. India should be actively involved in world affairs and world trade and keep the idea of national interest and nation first policy to maintain a balance with every nation. To counter Chinese hegemony in the region India should actively engage in the QUAD grouping in various dimensions such as vaccine policy, energy security and soft diplomacy. Soft diplomacy and cultural linkages with other nations sharing the Indo-Pacific region could enhance India's strategic presence in the region.
Practice Question
Q1. Briefly explain the purpose of Global Security Initiative of China. Do you think Indo-Pacific region is becoming a breeding ground of New Cold War? Substantiate your answer.
Q2. Do you think 'Quad' can be transformed into an Asian NATO? Analyze the statement with respect to USA's and India's vision for Indo-Pacific region.
THREE-DAY EUROPE VISIT
Prime Minister Narendra Modi was on his 'three-day three-nation' tour of Europe from May 2 to May 4. PM Modi visited three European countries Germany, Denmark and France during his visit.
His three-day visit comes against the backdrop of Russia's invasion of Ukraine.
May 2: PM Modi landed in Berlin, where he held bilateral talks with German Chancellor Olaf Scholz. The two leaders co-chaired the sixth edition of the India-Germany Intergovernmental Consultations (IGC).
In 2021, India and Germany commemorated 70 years of the establishment of diplomatic relations and have been strategic partners since 2000.
May 3: Prime Minister Narendra Modi reached Denmark. For the first time, he held a meeting with Prime Minister Mette Frederiksen.
May 4: PM Modi met his counterpart in Norway, Sweden and Iceland on the sidelines of the second India-Nordic summit.
Which are the Nordic countries?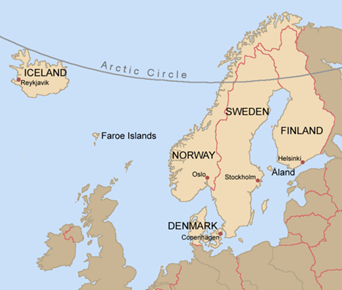 The term 'Nordic' is derived from 'Norden' which means, the northern islands.
The residents are known as 'Norbdo' which means in the literal term, 'northern dwellers'.
A geographical and cultural region in Northern Europe and the North Atlantic are Nordic countries including Finland, Iceland, Norway, Denmark, Sweden, and the Faroe Islands (an archipelago of islands as an autonomous country within the kingdom of Denmark).
India's relationship with Nordic countries
It said India and the Nordic countries affirmed their support for a rules-based international order and for multilateral institutions and their commitment to work towards making them more inclusive, transparent, and accountable with the aim of addressing global challenges more effectively.
The Nordic states of Denmark, Norway, Sweden, Finland and Iceland have reported increased trade with India in recent years, accompanied by a swelling Indian diaspora.
Interestingly, Finland and Norway share borders with Russia and have lately witnessed increasing tensions with Moscow over the Ukraine war.